healthfully delicious
real food. real life.
I'm a sucker for veggie burgers. I order them wherever we go. It started years ago when I thought they'd be healthier. Which they are. Oh, and I was a vegetarian-wannabe but just couldn't give up the taste of bacon and lobster. :) But ordering veggie burgers made me feel closer to that goal... :

But then it grew into an actual appreciation for the taste of a veggie burger. I really do love them. And still order them often. At times, I think I could pull off the vegetarian lifestyle, heck, even vegan as I already avoid dairy... although then I remember my love for the taste of bacon... and lobster.

So, I live a lifestyle that includes meat eating, vegan eating, vegetarian eating, sometimes raw vegan - I love it all! However, as a home cook, I especially love the simplicity of vegan-style cooking. Real, basic ingredients. Brought together in creative ways that make amazing flavours. Spices really enhance each dish, especially in a veggie burger. They can be made from a variety of base ingredients, anything that, when combined, creates that perfect blend that mimics the consistency of ground meat. A veggie burger needs that the perfect balance of sticky/wet/dry to allows you to form them into patties and grill on the BBQ!

I've been making veggie burgers for awhile, but have realized I don't have very many featured here on the blog! I usually use black beans - 1) because I love the taste of black beans and they are cheap! 2) because they make a great 'meat-like' base for a burger (or really anything you usually use meat for, we also use black beans in place of taco meat! For the burger, you could then add anything to it - oats, breadcrumbs, egg, spices - whatever you prefer - to make it hold its own flavour and form.

This version has sweet potato, added to the black beans. It's sooooo good. Definitely my favorite. The sweet potato adds a good amount of moisture (no need for an egg - yay vegans!) that helps to hold it together and also gives it a great boost of sweetness! Add a little extra spice - yum! This burger tastes great with a little spicy mayo, lettuce, and tomato. (As pictured above, with some fajita rice on the side)

Veggie burgers can be tricky though. They are simple to make, but also simple to mess up. I've messed up A LOT. A few tips to prepare veggie burgers, of any kind, that I've learned along the way:

1) Make ahead of time and refrigerate for 30 minutes or longer. Overnight, if you can. They will firm up and hold together much better on the grill or frying pan, or you could even bake in the oven on a low-isn heat. Firmer means easier flipping. No crumbly burger falling into the coals on the BBQ... :(

2) Right before grilling, lightly brush a little olive oil on each side. This will reduce the chances of it sticking to the grill. If baking or frying, be sure to use a greased pan!

3) If you can, taste it before you cook it. Really. It's not meat and it's usually fully cooked already - be weary though if you're using egg in yours. When cooking, you're just grilling it to get a little crispy and warm. By tasting it before, you'll know if you added enough spice.

4) Don't blend the ingredients too much. Just enough to combine it, not puree it. If it's purred it loses some of it's flavour, especially if using sweet potato, and can get way too sticky. You still want to taste a chunk or two of smooth sweet potato in your burger. Well, I do at least.

5) Hannah loves these!! Get your kids to try them before you give them any idea that the rest of meat-eating world thinks veggie burgers are weird. You might be surprised that they like the flavour of them. Beans, rice, lots of spice - you can also use this opportunity to sneak in some extra veggies - peas, corn, carrots - cut super small. They hide well in veggie burgers, especially if you're going to sandwich it between a bun and smother it in ketchup... :)

Total Time: 10-40 minutes to prepare (depending on prepping sweet potato/rice) + cooling time

(This recipe made 5-6 good sized burgers)

Ingredients:

1 can of black beans, rinsed

1 medium sweet potato, cubed and cooked* (should make about 3 cups)

1/2 cup brown rice, cooked and cooled*

2-3 tbsp of oats or breadcrumbs, if needed to reduce stickiness

1/2 onion or green onion, diced

2 cloves garlic, minced

1/2 tsp: sea salt

1 tsp: cumin, paprika

1 tbsp: cilantro

Spicy Mayo Ingredients:

1-2 Tbsp of mayo (depending on how much you want!) Also, we use Spectrum brand, as it contains honey instead of white sugar)

1/2 tsp of each: cumin, paprika, cilantro, chilli powder

Sprinkle of sea salt/pepper

What to do:

1) *Make sure you have your sweet potato and rice cooked. It tastes better to have roasted sweet potato, rather than boiled. It just takes a bit longer - 30 minutes in the oven under 400 degrees fahrenheit. Just chop them up, spread them on a pan, and drizzle with olive oil. Bake, uncovered. Cook your brown rice according to the package. Once these 2 main ingredients are cooked, cool them slightly in the fridge for a few minutes before using.

2) Okay, now that everything is cooked and ready to use, let's get started. First, place sweet potato, rice, and rinsed beans in the food processor. Pulse for just a short, short bit. DO NOT PUREE. Just look to combine them.

3) Once combined, remove and place into a large bowl. Add the remaining ingredients. Mix together using your hands to have everything incorporated.

4) Form into balls, should make about 5-6. Flatten into patties. Be careful not to make them too thin or they'll fall apart on the grill. Make a nice thick burger!

5) Refrigerate for 30 or more minutes. Overnight if you have the time. They'll firm up and be easier to grill.

6) Once ready to grill, lightly brush with olive oil. Grill for just a few minutes on each side. Remember that everything in the burger is already cooked! You're just looking to heat them up and get some awesome grill marks to bring out the flavour.

7) Serve immediately, so they are at the peak of flavour. I recommend serving them on a bun, lettuce, and tomato with some spicy mayo! Ingredients listed above, just mix together the mayo and spices. Some other suggestions to serve the burger with are

guacamole

,

salsa

, or just your go-to ketchup and mustard! Or, you could be like Hannah, and just eat it plain, no bun or anything :)

*You can freeze these, as well! They last quite awhile in the freezer :)
Powered by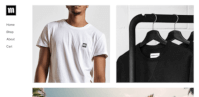 Create your own unique website with customizable templates.