healthfully delicious
real food. real life.
I'm always looking for easy recipes that whip up quickly and result in awesomely simple food. Usually, whether you've realized it or not, that means it's probably vegan. Ah! Vegan! You're eating vegan food and liking it! Oh my!! :)

Sorry if that's offensive in any way. I just find it funny how so many of us shy away from 'vegan' food because they think it's so healthy or filled with plants that it won't taste good and won't be hearty enough, you know, like a good meat and potato dish, or a big scoop of ice cream.

Giving food a label or category has, I fear, made so many of us afraid to try things that are totally delicious and a lot easier to make. A LOT easier. Purely because the ingredients are simple and from the earth, they don't need much special treatment.

I've grown to sticking mainly to baking vegan-style. So much easier. When you cook with milk or eggs, they usually have to be cooked in some way, and measured (blah!), which takes longer, and I find, makes the recipe a touch more delicate and easier to mess up! I've definitely had a good amount of mess-ups... I love recipes that you can rough the measurements and just mix everything together, in no real specific order. Oh, and usually, that means they are probably raw vegan, too. Yikes! So earthy of me!

Today's post is totally vegan-ish. It's not completely vegan because I used honey. Although, you can easily swap in maple syrup instead, or some other kind of sweetener of choice. But essentially, we're talking easy mix-together recipe here. There's very little room for mess-ups. Versatile, quick, pantry ingredients, no prob.

If you haven't tried making homemade granola bars before (don't worry, you're not alone, but seriously, join the fun, it's easy and SO MUCH BETTER FOR YOU than those packaged ones) I'd recommend starting with these ones.

Sweetener, Nut/Seed Butter, Oats.

That's it.

I know!! I know. Feel free to use this as a base recipe, adjusting it to what you'd like a have in your granola bars. Maybe some seeds, nuts, dried fruit, chocolate chips, coconut flakes? Anything adds in well. Mix, flatten, cut, serve. Not fancy measuring, no fancy steps, really. A little boiling, but it's not hard. You can handle it. Here you go!

*Chocolate topped bars: Yes, you read me correctly. Chocolate topped!! They were so good that I didn't have time to grab a pic. Just make the recipe below as per usual. Then mix up a quick batch of my easy peasy

chocolate ganache sauce

to pour overtop and then freeze. I mean HELLO amazing.

Easy Chewy Granola Bars

2 cups oats (or 1 cup oats and 1 cup mixture of nuts, seeds, dried fruit, chocolate chips, coconut flakes, etc.)
1/3 cup peanut butter (or any nut or seed butter - recommend Sunflower Seed Butter for nut-free!)
1/3 cup honey
sprinkle of sea salt

What do do:

1) Mix all your dry oats and nuts and things together in a bowl and set aside.

2) In a small saucepan, heat honey over medium heat until it comes to a boil. Stir often! Let it boil for 1 minute then remove from heat. Add peanut butter and sea salt. Stir to evenly combine.

3) Add honey peanut butter mixture to your oat mixture. Stir well and fast before it cools too much, ensuring it is evenly combined.

4) Line a square pan with parchment paper. Pour and flatten your granola mixture into the pan until it is flat and ready to harden. Refrigerate for 30 minutes and then slice it up to enjoy! Should keep in the fridge for a while. Keeps on the counter in an airtight container for about a week or so... but honestly, I don't really know, they are gone before we reach this amount of time.. :)
Powered by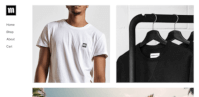 Create your own unique website with customizable templates.