healthfully delicious
real food. real life.
Most of the time I have no complaints about being lactose intolerant. I feel great and healthy and that counts for a lot! But there are times, especially when winter keeps you house bound for days, when you just want super rich, creamy, comfort food. Today was one os those days.

I haven't had alfredo sauce in years. Actually, I know when - it was during my days living in residence during my undergrad. Ah, pasta Thursdays in the cafeteria! (cringe now at how much food I would eat!) Load up you plate with your choice of pasta, toppings, and sauce. I would, of course, load up on both alfredo and tomato because I couldn't decide between the two and didn't have a worry in my mind about what was actually in those sauces... Yikes... Needless to say, I know now to look into a perhaps a slightly healthier, if possible, and dairy-free alternative for this comforting delight.

Here it is - it's just a rich (really - cashews are amazing, but rich, too - just be aware!) creamy, garlicy, and delicious mixed with the fresh pea shoots we received in our CSA share this week.

Super easy, quick make up and clean up! Vegan friendly to boot. Enjoy!

Total Time: 5 minutes

Ingredients:
1 cup raw cashews
1 1/2 cups water + 1 organic vegetable bouillon or 1 1/2 cups stock
2 tbsp Earth Balance soy-free butter or full fat coconut milk
3 cloves garlic
sea salt and pepper to taste
a few handles of pea shoots, roughly chopped

What to do:

1) Put all ingredients except the pea shoots into a food processor. Blend on high until a creamy liquid appears. Taste and add salt/pepper if need be. Should taste garlicy and smooth like Alfredo sauce.

2) Add pea shoots and stir until combined. If you blend it too much with the food processor, you'll have green Alfredo sauce... just be aware!

3) Serve over paste, chicken, fish - whatever! So yummy!! And dairy free :)


Powered by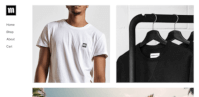 Create your own unique website with customizable templates.