healthfully delicious
real food. real life.
This winter hasn't let up yet. More snow forecasted for tonight and later this week. BOOOO!!!! And it's cold. It's a hassle to get Hannah all dressed to go outside and dangerous to go out for walks. So much ice, snow banks, yuck. I want spring!

So, when I get bored and angry I turn on some music and cook! I love trying something new in the kitchen and I'm always looking to try something new to post on here. This time, I was in the mood for a snack-type food that Hannah and I both could enjoy - and I wanted to use up a couple carrots from last week's CSA - so I give you 'Maple Carrot Applesauce Muffins'. The only positive of this long, cold, snowy winter is all of the cooking and baking that I've been doing. Lee is loving it!

I found a few recipes for carrot muffins and tweaked them to eliminate the dairy and refined sugar. The result is delicious! So moist and sweet from the applesauce and maple syrup. A great blend of spices that will make your house smell amazing!

Total Time: 10 minutes prep + 22 minutes bake

Ingredients:

Dry:
1 1/2 cup whole wheat flour (or sub other flour)
1 tsp baking soda
1 tsp ground cinnamon
1/2 tsp ginger
1/2 tsp sea salt

Wet:
1/2 cup coconut oil
1/2 cup maple syrup
1 egg
1 tsp vanilla extract
1 cup unsweetened applesauce
1 cup grated carrot

Ingredients:
1) Preheat oven to 350 degrees fahrenheit and prep muffin pan with liners. I tried the parchment paper ones this time and they turned out great! They don't stick to muffin, interesting, it's up to you.

2) In a small bowl, mix together the dry ingredients.

3) In a larger bowl, mix with an electric mixer the coconut oil, maple syrup, egg, and vanilla. Then slowly add in the dry ingredient mixture until blended and sticky. Fold in applesauce and carrots until well combined.

4) Spoon into muffin pan and bake for 22-24 minutes, or until a toothpick comes out clean. Enjoy!! :)
Powered by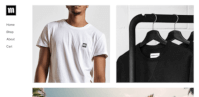 Create your own unique website with customizable templates.