healthfully delicious
real food. real life.
Hummus is an amazing thing - so yummy, can be whipped up very quickly, versatile in ingredients, and can be used as a dip, a spread, a dressing, you name it! Here's a twist on my regular hummus, slightly spicier than normal.

Total Time from start to finish: 15 minutes? Not even?

Ingredients:

Regular Hummus:
1 can of chick peas (garbanzo beans) rinsed
1 tbsp. tahini (sesame butter)
3 cloves garlic
Drizzle of Olive Oil
Sprinkle of sea salt/pepper
Squeeze of a lemon or lime

This version:
half of a yellow pepper, cut into chunks
1-2 good shakes of chilli flakes
1-2 good shakes of chilli powder
1-2 good shakes of cumin

What to do:

1) Put all ingredients in food processor. Blend until smooth!



---
Powered by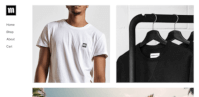 Create your own unique website with customizable templates.