healthfully delicious
real food. real life.
Sunday evening, wintery cold and damp day - nothing better than a bowl of soup with a crust of bread! Versatile meal for whatever you have available! Tonight's soup consisted of roasted root vegetables: a butternut squash, sweet potato, carrot, parsnip, and celery. Roasted with some garlic and simmered together with some ginger, cinnamon, and cumin. Hearty meal for a night when you just want to curl up under a blanket.

Total time from start to finish: 50 minutes

What you'll need:
Veggies to roast - root veggies work the best (sweet potatoes, squash, parsnip, carrot and celery are what I used tonight)
Drizzle of oil for the roasting
A clove of Garlic, minced
A small chunk of ginger, minced
An onion
Sprinkles of cinnamon, nutmeg, cumin, salt, pepper
Water and/or broth, a cup or two, depending on how you like it
Coconut milk, if you want, to make it smoother

What I did:

First, preheat oven to 400 degrees fahrenheit. I then peeled, chopped all vegetables and placed flat on a cookie sheet, with a drizzle of oil, to roast for 30-40 minutes.

While that is roasting, sauté the onion with garlic and ginger until soft. Add the roasted veggies when they're done, with the spices and the broth. Let simmer for a bit then blend together, with an immersion blender preferably, until smooth and creamy. Add the coconut milk if using, just until the soup lightens a bit in colour or until it's to the consistency that you want.

Definitely serve with a crusty bread, great for dipping!

Freezes well, too, if you've made too much!



---
Powered by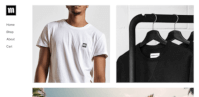 Create your own unique website with customizable templates.