healthfully delicious
real food. real life.
After experimenting over and over again with pumpkin muffins, I was coming up with uncooked, messy excuses for a muffin. I was quickly depleting my source of pureed roasted pumpkin and had nothing to show for it. So, I decided to take a risk and make up my own recipe for pumpkin muffins. I've never done this before with baking. Baking scares the heck out of me. You put all these ingredients together until it's a soppy, sticky mess and then somehow, with the right amount of heat and time, it scientifically transforms it into a fluffy, moist, and flavourful food. Cooking is far different - you taste as you go, so you know where you are going or at least you can adjust as it cooks. Definitely not the case for baking... Any who, so off I went, using dry ingredient amounts based off another recipe and then just went for it with the wet ingredients. I decided to use almond butter as I feel this is a never fail ingredient. Assuming you can eat almonds, it seems to make everything so tasty, so I figured this was a safe route.

The result was great! Obviously, or I wouldn't be posting it! It was sweet and moist and cooked well. Some of you baking experts may disagree, but for an amateur like me, I thought this was quite successful. :) Try them and let me know what you think:

Total Time: 35-40 minutes

Ingredients:
2 cups flour (I used whole wheat)
2 tsp baking powder
1/2 tsp baking soda
1 tsp cinnamon
1/2 tsp nutmeg
1/4 sea salt
1/2 cup maple syrup
1/4 cup almond milk
1 tbsp canola oil
1/2 cup almond butter
1 cup pureed pumpkin
handful of chopped almonds (optional)

What to do:
1) Preheat oven to 350 degrees fahrenheit. Prep muffin pan with liners.

2) Stir dry ingredients together in one bowl. Mix wet ingredients in another bowl.

3) Pour one bowl into the other bowl... haha (I know this is terrible baking instructions... I just can't remember which went into which, and knowing me, I didn't put much thought into this part. Again, remember, not a baker here)

4) Blend until no lumps and relatively smooth. Add chopped almonds if you wish.

5) Place spoonfuls in muffin liners, just up to the rim.

6) Bake for about 30 minutes or until toothpick inserted comes out clean! Move to a cooling rack and eat one, of course, right our of the oven. :)



---
Powered by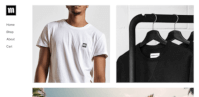 Create your own unique website with customizable templates.