healthfully delicious
real food. real life.
Yes, you read it right. Peanut Butter. Chocolate. Popcorn. Combined to make the ultimate dessert snack! I wouldn't suggest eating a lot of this in one sitting, obviously, but even when you're eating healthy, you deserve to treat yourself now and then. This is a snack that I've adapted to suit my dairy/soy/sugar free diet, my love of peanut butter and popcorn, and Lee's cravings for chocolate. It keeps well, so make a batch and put it up in the cupboard to bring out little bits at a time!

Total time from start to finish: 30 minutes

Food I used:
Air popped popcorn - about a half cup or so of un-popped kernels
Honey, half cup
Maple Sugar, half cup
Natural Peanut Butter, half cup
Vanilla, teaspoon
Cocoa, tablespoon
Cinnamon, teaspoon
Nutmeg, sprinkle

What I did:
Pop popcorn. Preheat oven to 250 degrees Fahrenheit. Combine honey, maple sugar, and peanut butter in a small pot over medium heat. Add vanilla, cocoa, cinnamon, and nutmeg and stir to combine, off heat.
In batches at a time, drizzle honey mixture over top popcorn and stir to evenly coat.
Grease baking sheet and spread popcorn mixture over sheet. Bake for 20-30 minutes to give a bit of crisp!

This is amazing. If you don't like it, you're crazy! But seriously, don't eat it all in one sitting, stay healthy while treating yourself!

---
Powered by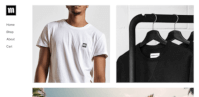 Create your own unique website with customizable templates.