healthfully delicious
real food. real life.
I've definitely been on a sweets kick lately. Whipping up something sweet to enjoy after Hannah goes to bed at night. Goes great with a nice night of Netflix!

And whipping up something sweet really isn't that hard. Not when you go vegan! Or vegan-inspired baking, as I prefer to call it. I use lots of honey. Sorry vegans... But seriously, vegan-inspired to me means no eggs, no bake, no measuring. Just take ingredients that taste great together and create something new and yummy!

So, with that, I give you this 'recipe' for Peanut Butter & Chocolate Bars. Maybe my favourite vegan-inspired sweet. Well, aside from banana ice cream and chocolate avocado pudding... But still, this fits into the same categories.

Easy.
Sweet.
Delicious.
Simple ingredients.
5-minute prep.
No-bake.
No hassle.
Fool proof!
And yummmmmmy!

I have a soft spot for peanut butter. And chocolate, of course. I was definitely an habitual Reese's Pieces snacker before I went dairy and refined-sugar free. It may have been a long time since I've had one, and I may be a bit biased in thinking this is pretty good recipe to try, but I think it tastes pretty darn close!

The best thing about learning how to cook simple, healthy food is discovering just how easy it can be to whip up a tasty sweet treat. (And a treat that can take on the awesome flavour of Reese's Pieces! No need to follow a recipe to the tee for this one - just taste as you go.) Without the need to bake, you can taste and adjust, swap ingredients, customize it to your preference.

To make it nut-free: swap out the peanut butter and use sesame seed butter! Just as yummy.

To make it vegan: swap out the honey and use another sweetener of choice.

Don't have oats or trying to avoid gluten? Use unsweetened shredded coconut.

Here's the recipe I used to make these awesome tasty treats!


Total Time: 5 minute prep + freezer time (30 minute minimum)

Ingredients:

Peanut Butter Layer:
Approx. 2/3 cup oats (more or less, just to get a nice sticky but firm texture)
1/2 cup natural peanut butter
1/3 cup honey
1 tsp vanilla
pinch sea salt

Chocolate Layer:
1 tbsp coconut oil
1 tbsp honey
1 tbsp cocoa powder
1 tsp vanilla
dash sea salt

What to do:

1) In a food processor, add all ingredients for peanut butter layer. Pulse until combined and slightly sticky/slightly smooth but firm. Spread into a greased brownie pan/pan lined with parchment paper. Place in freezer for about 30 minutes, until frozen firm.

2) In a small saucepan, melt together all ingredients for chocolate layer. Use a whisk to keep it mixed as the oil melts. If you find it starts to separate, just place it int he fridge for little bit and try stirring again. Once you've got a nice, smooth, sweet tasting chocolate sauce, you're ready to drizzle over top the frozen peanut butter layer.

3) Remove peanut butter layer, drizzle chocolate sauce, and place back into the freezer. After about 5 minutes, it should be ready to cut and serve! Or store, in fridge or freezer, and sneak pieces as a snack! :)
Powered by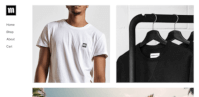 Create your own unique website with customizable templates.