healthfully delicious
real food. real life.
This recipe is courtesy of my father, who started doing this instead of simply roasting potatoes in the oven with a little oil and salt/pepper. We tried it the other night and it definitely helps coat the potatoes in your selected spices and taste similar to the purchased version of spicy fries. However, I can guarantee you will use much less oil and you will know every ingredient! We, in fact, know exactly which field our potatoes are grown in and how they are transported to us via our CSA. Another great reason to a CSA folks!

Here's the recipe for the fries pictured above:

Total Time: 30-35 minutes

Ingredients:
4-5 Potatoes of choice! Cut lengthwise into fries. We used a fun veggie slicer to get the crinkle cut.
1-2 tbsp vegetable oil
Spices of choice: sea salt, pepper, cumin, chill powder, oregano, garlic powder, etc.

What to do:

1) Preheat oven to 425 degrees fahrenheit.

2) Place spices in a large clear plastic bag, such as a freezer bag. Throw in potatoes, seal bag and shake until potatoes are coated. Add oil to bag, seal again, and shake more until everything is well coated.

3) Pour coated potatoes onto a baking sheet and toss around until laying flat and mostly not touching. Bake in oven on middle rack for about 30 minutes or until potatoes are soft and crispy! Gobble up! Yum!

---
Powered by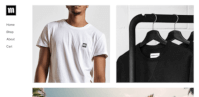 Create your own unique website with customizable templates.