healthfully delicious
real food. real life.
This is probably my favourite pesto. Garlic scapes. You can't get any better! Green and garlicy. Yum! Mixed with lemon, walnuts, and olive oil - you don't need cheese to make this taste good! We received 2 batches so far from our CSA, but you only get garlic scapes for limited time, so I actually went to the market and bought more to make pesto to freeze so we can enjoy in the off season. In the recipe, I didn't put the quantities of each ingredient because it really up to your tastes and how many garlic scapes you have. Adjust as needed - the beauty of a food processor. Keep adjusting until you're happy with how it tastes!

Total Time: 10 minutes

Ingredients:
Garlic Scapes
Juice of a fresh lemon
Zest of a fresh lemon
Walnuts
Olive Oil
Sea Salt/Pepper

What to do:

1) Blend garlic scapes first until smooth-ish. Add walnuts and lemon and a drizzle of oil. Blend and adjust ingredients to fit the taste you like.

2) Serve overtop pasta, crackers, bread, wherever! Freezes well in a container/baggie.



---
Powered by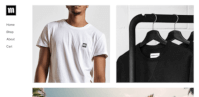 Create your own unique website with customizable templates.