healthfully delicious
real food. real life.
Being snowed in, at first, is fun. No need to go anywhere. No need to change out of your pj's. (win!) Excuses to eat chips (although, I'm on a chip-free resolution right now, so been replacing that craving with popcorn) But then, after a while, it gets boring. Sooooo booooooring! I get so restless being home with nothing really to do. I am definitely not one to sit around watching tv all day. I clean, tidy, organize, re-organize, take up new hobbies... whatever to keep myself busy.

Today I was planning to get out of this house! It was going to be a clear day. I had errands to do and grandparents to visit. Hannah and I were going to get out for a swim (it's been almost 3 weeks now since we've been out... ) but, here I am, at home again! This darn winter! The roads are still terrible from the last storm and at the last minute, I decided it was best to not try driving around town with an 8 month old.... argh....

So, insert a new post! And a sweet one at that! This one is brought to you by needing something to do, needing something sweet to pick up the afternoon lull, and a lack of honey that I wanted to use for another treat.

These turned out really yummy. Sweet, peanut buttery, crunchy. I added the cocoa at the last minute, you could totally omit it. It tasted good without it, as well! I added some options below to better suit it to your preference!

Total time: 5 minutes

Ingredients:

1 cup oats
2/3 cup unsweetened shredded coconut
1/2 cup peanut butter (natural)
1/3 cup maple syrup
1 teaspoon vanilla
1 tablespoon chia seeds
1 tablespoon flaxseeds
1 tablespoon cocoa

What to do:
1) Combine all ingredients in a bowl or food processor.

2) Roll into balls. Keep refrigerated until ready to serve!

***Lots of options for this one:
-replace maple syrup with honey or agave
-use whatever seeds or nuts you want to add
-use almond or sunflower seed butter in place (to help make it school-friendly)
-omit coconut or oats and add more of the other
-omit cocoa if not a chocolate fan
Powered by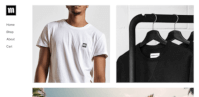 Create your own unique website with customizable templates.