healthfully delicious
real food. real life.
These are ridiculously easy to make and can be adapted easily. I first had a similar recipe from my Naturapath and over time have changed it to become this! Enjoy!

Total Time from Start to Finish: 15 minutes plus cooling time

What we used:
Maple Syrup, 1/2 cup
Almond Butter, 1/2 cup
Natural Cocoa, 1/2 cup
Vanilla Extract, 1 tsp
Chopped Almonds, a small handful
Unsweetened Coconut, a couple handfuls + extra for coating

What we did:

1) Over low heat, combine maple syrup, nut butter, cocoa, and vanilla until smooth and dark brown. Remove from heat.

2) Add almonds and coconut (can be more or less if you want) and stir to evenly combine. You want the mixture to be tough but not too sticky.

3) Scoop and roll into little bite-size balls and roll into a dish of the coconut to coat. Place on parchment-lined baking sheet and place in the fridge. You can eat them right away, but they get better with time. The next day they are awesome!

Warning: They are very addictive! I place them in a container after the second day and put them at the back of the fridge. It helps to not eat all of them right away!

---
Powered by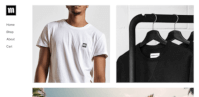 Create your own unique website with customizable templates.