healthfully delicious
real food. real life.
Saturday morning sleep in followed by fresh, delicious pancakes? Yes, please!
This is the recipe we use, switching up whatever fruit we have on hand. With pure Maple Syrup drizzled on top, this is a definite favourite for a late weekend breakfast. And occasionally, a weeknight supper!

Time from start to finish: 25 minutes

Food we used:
1 egg
1 cup almond milk
Oil for cooking
1 cup whole wheat flour
teaspoon cinnamon, baking powder
half teaspoon baking soda, sea salt

What we did:
Combine all ingredients until smooth. Heat oil in a non-sitck pan. Drop scoops of batter into pan and cook until bubbling, then flip. Should be golden brown on both sides. Makes about 12 small pancakes. Drizzle with maple syrup and more fruit!



---
Powered by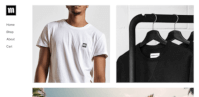 Create your own unique website with customizable templates.