healthfully delicious
real food. real life.
Okay, really, they are like fritters. But pancakes works, too, I think. This is great way to use up those CSA veggies! Very easy and tasty. Enjoy :)

Total Time: 30 minutes

Ingredients:
about 3 cups of grated vegetables (for the pic above, I used potato, parsnip, carrot, and leek)
1 egg, beaten
1/4 or more whole wheat flour
a few dashes sea salt/pepper
about 1/2 tsp spices of choices: I used paprika and garlic for this batch
Just enough oil or butter for frying (I used Earth Balance Soy-free Butter)

What to do:

1) Preheat greased pan on medium heat.

2) Combine all ingredients except oil. Mix well.

3) Form into little patties and place in hot pan. Cook until browned on one side and flip. I squished mine a bit so that the veggies cooked inside. Similar to cooking pancakes :) Serve with a dipping sauce of choice or on own!

---
Powered by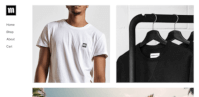 Create your own unique website with customizable templates.