healthfully delicious
real food. real life.
I make my lunch every night for the next day. I usually pack up leftovers, which definitely adds some excitement to a bagged lunch. But on the occasion where I don't have any leftovers, I strive to make a lunch that's still as desirable. I thought I would post this sandwich that I often make because I absolutely love it - and that is saying something, because I grew up absolutely hating tuna sandwiches! But this one is truly delicious and I think it's all because of the apple! What are your favourite bagged lunches?

Oh and yes, the bread is homemade. Honey whole wheat flax - no dairy or sugar! I am a lucky girl - my husband enjoys making homemade bread - from scratch, no bread-maker machines here! He learned how to make it from my Dad, who yes, made us homemade bread throughout my whole childhood... I realize that this isn't the norm, but it is for me, and honestly, I'm not sure if I could have it any other way! There was a short blip of store-bought bread in my life while I was in University, and it just isn't the same. Plus, you honestly have no idea exactly what you're eating when it's store bought. The more items you can make from scratch at home, you will feel better - because you'll know what you're eating and you'll actually be eating REAL food! However if you're not into the 4 hour long process of kneading and rising and cooking that is involved in bread making, you can breads like these at Farmer's Markets or specialty stores, like The Heartwood in Halifax.

Time from start to finish: 10 minutes (For the Sandwich - NOT the bread! haha)

Food I used:
Lee's Honey Whole Wheat Flax Bread
Canned Tuna (no added salt, in water)
Spectrum Canola Oil Mayo (no sugar!)
1 Apple (Macintosh is what I typically have)
1 Celery stalk
Juice and Zest of half a lemon
Sea Salt
Freshly Ground Pepper
Shredded Carrot

What I did:

Toast bread. Drain Tuna. Combine Tuna, a spoonful of Mayo, half of the apple (sliced into bitesize) , half of the celery stalk (cut into small pieces), lemon zest and juice, salt/pepper. Add a clump to toast and smooth out. Add carrot and top bread. Enjoy!

---
Powered by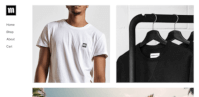 Create your own unique website with customizable templates.