healthfully delicious
real food. real life.
I was home sick today, which explains the blog post 30 minutes after dinner! Not 2 weeks later! This is extremely easy and tasty! A classic dish reinvented with a healthy kick!

Total time from start to finish: 40 minutes

What we used:
tsp garlic
tsp chilli powder
sprinkle sea salt
sprinkle of pepper
tsp cumin
tsp paprika
pinch of pepper flakes
3 tbsp honey
1 tbsp vinegar
drizzle of oil
Chicken drumsticks, thawed, skins removed
White and Sweet Potatoes, sliced into fries

What we did:
1) Preheat oven to 400 degrees Fahrenheit. Prep potatoes onto a baking sheet with drizzle of oil, paprika, sea salt, and pepper.

2) Mix together in a bowl: garlic, chilli powder, cumin, paprika, pepper flakes, honey, vinegar, and a drizzle of oil. Arrange chicken in a baking dish and drizzle honey mixture over chicken.

3) Bake both dishes in over for about 25 minutes, until chicken is done and potatoes are tender.

---
Powered by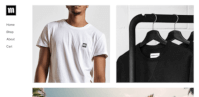 Create your own unique website with customizable templates.