healthfully delicious
real food. real life.
I knew I wanted soup tonight! It was -20 degrees outside and the sniffles and cough were settling in. I wanted something to soothe the soul, but also clear the sinuses! This soup is a new favorite for me, adapted slightly from the traditional chicken and vegetable soup, this one has a definite kick that will clear you out! I can't take credit for this one, I found it on cleaneatingmag.com, a website found on my Internet Favorites Bar!

Total Time from start to finish: About 30 minutes

What we used:
Drizzle of Oil for cooking
1 onion, diced
1 clove garlic, minced
2 chicken breasts, slightly thawed, chopped into bite-size pieces
Veggies: 2 carrots, 1 small head of broccoli, 1 sweet potato, chopped
No-Salt Organic Chicken Stock Bouillon mixed with 2-3 cups water
Coconut Milk, about a cup
1 tsp red chilli flakes
4 tsp dried cilantro
Sea Salt/Pepper to taste
squeeze of a fresh lemon slice

What we did:

1) Heat oil with onion and garlic until slightly brown. Add chicken and cook until no longer pink.

2) Add veggies and broth. Let it come to a slight boil and simmer while veggies cook through, about 10 minutes.

3) Add spices and coconut milk. Let sit a little bit to let the flavours mix together. Add a sqeeze of the lemon juice right before serving - makes it very fresh and vibrant tasting.

Enjoy!




---
Powered by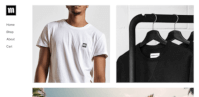 Create your own unique website with customizable templates.