healthfully delicious
real food. real life.

The weather right now is yucky November damp cold. It is just gross out. Seriously. Not a fun time to live in Nova Scotia. It is in serious need of a steaming cup of deliciousness. Thus calls for stew. And lots of it!

So, enter this awesomely easy pork stew. Full of chunky pork loin, butternut squash, and carrot in a broth of spiced diced tomatoes. And better yet, it can be cooked easily in a slow cooker and ready to eat in 4-5 hours.


Here's what we did!

Total Time: 4-5 hours on low

Ingredients:

1 pound or so of pork loin, chopped in a chunks
1 onion, diced
2-3 carrots, chopped
1 butternut squash, chopped
4-5 leaves swiss chard, stems removed, chopped
1 stalk leek, chopped
1 can diced tomatoes (read ingredients for added salts, etc) (this organic brand also had a bit of organic tomato paste added to it to make it extra tomato-ey)
sea salt/pepper as needed
1 tbsp cumin
1 tbsp chill powder


What to do:

1) Cook pork, cut up, briefly in a hot oiled pan to brown edges. Transfer to slow cooker.

2) Add all remaining ingredients. Cook on low for 4-5 hours!

3) Stir if you're around. Season as needed. Devour!



---
Powered by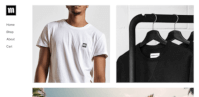 Create your own unique website with customizable templates.