healthfully delicious
real food. real life.
Yes, this tastes good. Sooooo good. Very simple ingredients that are create a clean, sweet and garlicy sauce. Using the slow cooker, the meat soaks in all the yumminess of the flavours and practically falls off the bone. (As you can see by the chunks of chicken in the sauce overtop the rice in the picture, that I proceeded to gobble up seconds after this pic was taken!)

Using corn starch or arrowroot flour will help create a thicker sauce. However, it's not necessary if you're avoiding things like that. The sauce is just as delicious.

Total Time: 2-4 hours in slow cooker (or longer if using more chicken)

Ingredients:
Chicken drumsticks/wings (We have a small slow cooker and usually only cook for 2, so we did only 5 drumsticks. Feel free to do more!)
1 stalk of green onion or leek
1/4-1/2 cup honey
2 tbsp. coconut oil (melted)
3 tbsp. apple cider vinegar
3-4 cloves of garlic, finely chopped
1 tsp ginger
1/2 tsp. hot pepper flakes
dash sea salt/pepper
2 tsp arrowroot flour or corn starch - optional at end of cooking

What to do:
1) Add sauce ingredients to slow cooker - omit arrowroot flour/corn starch until the end. Turn on high. Stir to combine.

2) Add chicken and stir to coat in sauce.

3) Cook, on high for 2-3 hours, or on low for 4-5 hours (depending on how much chicken you're using)

4) When chicken is done cooking and no longer pink on the inside (and starting to fall of the bone) remove to a side bowl. Add arrowroot flour / corn starch to sauce. Keep slow cooker on high. Stir to allow sauce to thicken. Once starting to thicken, add chicken back in and turn off heat or remain on low until ready to serve.

Pairs great with rice & summer rolls! Or at least that's what we had tonight. :)
Powered by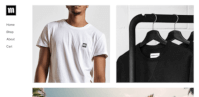 Create your own unique website with customizable templates.