healthfully delicious
real food. real life.
This meal is very quick and probably one of the healthiest meals we make for ourselves. Your entire meal is steamed, preserving the nutrients of the veggies and the fish. I'm tellin ya, if you don't have a bamboo steamer, you are missing out! The clean up is easy and it's extremely easy to use. Try this meal, as it doesn't take long to make, either.

Time from start to finish: 20 minutes

What we used:

Fresh or thawed Salmon filets
2 lettuce leaves
1 slice of lemon each
Fresh or dried dill
Sea Salt/Pepper for taste
Veggies to steam: Broccoli and carrots

What we did:

Place a wok over high heat. Add about 2 cups of water. Place your veggies in the bottom steamer and sit in wok. Spead veggies out evenly. Place salmon on lettuce leave on top steamer (lettuce is purely there to keep the salmon from falling through). Top with dill, s/p, and lemon slice. Put top on steamer. Let water come to a boil and keep steaming until all food is ready to eat, usually about 10-15 minutes depending on your veggies/thickness of fish.

Serve!

Super easy!!

Clean up: Rinse bamboo steamer, wash wok!!




---
Powered by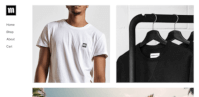 Create your own unique website with customizable templates.