healthfully delicious
real food. real life.
Ah, pregnancy cravings. They are a joy.

I've been craving the foods I ate as a kid. The healthy and not so healthy ones. Fresh cut carrot sticks, Chinese Food, Mac n' Cheese, Chicken & Rice Soup, Honey on toast, Apple Juice... the list goes on. This little recipe is inspired by such a craving: "Shake n' Bake Chicken".

Not even wanting to consider reading the ingredients on a box of shake n' bake, I figured this wouldn't be hard to recreate. People make their own crispy chicken wings all of the time. I have never really had an urge to make them. Until now that is. So, here's the recipe I settled on. They tasted wonderful and very much shake n' bake. But this time I KNEW what the ingredients were and how much of them I used. A much healthier and safer way to eat!

Total Time: 45 minutes

Ingredients:
Chicken Wings & drumsticks (try to for a company who prides themselves on healthy chicken raising/feeding practices)
1 cup whole wheat flour
1 tbsp each chill powder, garlic powder, dried basil and any other spices you like!
A few dashes of sea salt/pepper
Oil for greasing pan (I used Earth Balance butter spread)

What to do:

1) Preheat oven to 400 degrees Fahrenheit.

2) Mix flour with spices. Blend well.

3) Separate chicken wings & drumsticks. Give a little rinse and then dunk, one by one, into flour mixture to coat. Place on greased baking pan.

4) Bake for 35-45 minutes until golden crispy. Goes great with a baked potato & spicy turnip fries. Or mashed turnip for my childhood-food-craving-self... :)

---
Powered by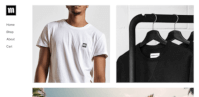 Create your own unique website with customizable templates.