healthfully delicious
real food. real life.
I am so excited about this one. I've made it twice now and I first learned about it a couple weeks ago. It tastes like caesar dressing, but contains no dairy, sugar, soy and even no gluten or egg! It is vegan-friendly! Except when you pour it over thick cut bacon... :)

I urge everyone to try this dressing at least once - you will be pleasantly surprised! The ingredients seem very random, I know, but it is a beautiful garlicy, lemony, creamy result!

So good! It has become a great alternative to a simple vinaigrette salad dressing.

Total Time: 5 minutes (chopping & blending)

Ingredients:

1/4 cup cashews (I didn't soak them and it was fine!)
1/2 medium zucchini, peeled and chopped
1 clove garlic
1 tbsp apple cider vinegar
1 tbsp lemon juice (watch out for seeds)
1 tsp mustard powder (or dijon mustard - read ingredients though)
1/4 cup extra virgin olive oil
1/3 tsp sea salt
pepper to taste

What to do:

1) Blend everything in a food processor or blender. Add a tsp of water if it's too thick.

2) Refrigerate until ready to use. Keeps for 3 days.

---
Powered by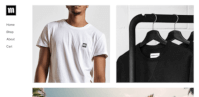 Create your own unique website with customizable templates.