healthfully delicious
real food. real life.
These were an attempt to use up the copious amounts of frozen cranberries in our freezer! I like cranberries, don't get me wrong, but Lee's not much of a fan, so what else could I do with them, aside from the typical turkey side dish of cranberry sauce? I've tried them in some fruit crisps but Lee doesn't like the flavour of cranberries, I find them a difficult taste to hide. But this weekend, I looked into some fruit muffin recipes and went with a lemony-cranberry twist on a variety of other recipes. Of course, I wanted to make it dairy and sugar-free. Lee's still not a fan of those cranberries, but that's okay, more muffins for preggo-me! :):) It has eggs and wheat flour - sorry vegan/gluten free folks. However, it could easily have no nuts, so safe for school. I will try to recipe soon with blueberries, I think that would be tasty and Lee would love them! Here's the recipe:

Total Time: 22 minutes cooking + 10 minutes prep

Ingredients:
2 cups flour (I used about 1 1/2 cup whole wheat and 1/2 cup all purpose)
1 tbsp baking powder
1/2 tsp sea salt
1 tsp lemon rind zest
3/4 cup unsweetened almond milk
1/4 cup lemon juice
2 eggs
1/2 cup vegetable oil
1/2 cup honey
1 cup or so of cranberries, fresh or frozen
Chopped nuts for topping, if you wish!

What to do:


1) Preheat oven to 400 degrees Fahrenheit. Prep muffin pan. This recipe made about 12 muffins.


2) Combine flour, baking powder, and sea salt in a large bowl. Set aside.


3) Mix lemon juice and almond milk in a measuring cup, and set for a minute. Meanwhile, in a medium bowl, beat eggs, oil, honey, and lemon zest. Add milk mixture. Stir egg mixture into flour mixture until just moistened; fold in cranberries. Fill prepared muffin cups two-thirds full; sprinkle with nuts, if using.


4) Bake in preheated oven until a toothpick inserted into a muffin comes out clean, about 20-22 minutes for me. Let cool and enjoy!!

---
Powered by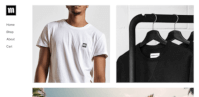 Create your own unique website with customizable templates.