healthfully delicious
real food. real life.
Lee ate four muffins before I could get them bagged and out of sight... so I'd say these pass the test! They are pretty tasty and were pretty simple to make! I made this recipe from looking at other recipes and adapting from white sugar to coconut sugar and butter to coconut butter. No need for a mixer, you can easily whip these up with a wooden spoon. You don't taste the zucchini at all! I shredded my zucchini with just a handheld cheese grater. It made them a bit chunkier, but I didn't mind that. You could easily shred yours finely and you wouldn't even notice there was zucchini at all in them!

Total Time: 35 minutes or so

Ingredients:

Dry:
3 cups whole wheat flour
3 teaspoons cinnamon
2 teaspoons baking soda
1 teaspoon nutmeg

Wet:
2 eggs, beaten
1 1/3 cup coconut sugar
3 cups shredded fresh zucchini
1/2 cup melted coconut butter
2 teaspoons vanilla

Optional: 1 cup walnuts, 1 cup raisins, etc.

What to do:

1) Preheat oven to 350 degrees Fahrenheit. Prepare muffin tins with paper cups. This recipe made about 15 muffins.

2) In a large bowl, combine wet ingredients.

3) In a smaller bowl, combine dry ingredients. Pour into wet ingredients and stir well. Consistency is wet and sticky. Add nuts and raisins if using. I only added about 2 handfuls of walnuts. Stir to combine evenly.

4) Spoon into muffin cups until level with top of cup. Bake in oven, middle rack, for 25-30 minutes, or until a tooth pick poked into the top comes out clean and the top can be pushed in slightly and it bounces back.

---
Powered by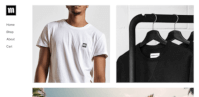 Create your own unique website with customizable templates.