healthfully delicious
real food. real life.
Yes, that's a mouthful, I know.

Maple Blueberry Walnut Oatmeal Cookies.

But it's a delicious mouthful... ! Haha ha.... ha ... ha... K, sorry, I had to say it.

Seriously though. I couldn't resist leaving out any of those delicious ingredients from the title. And that title in itself was hard enough to narrow down! There's still some other yumminess I left out of the title.

Sunflower Seed Butter for one! It's really what holds these cookies together. Of course, you could use peanut butter, but the sunflower seed butter adds a different taste and makes it school-friendly!

Also, these cookies are gluten and dairy free, as well as refined-sugar free. They taste delicious - crunchy and sweet on the outside, soft and chewy on the inside. You CAN'T eat just one. I promise you. Sorry. They are addictive. Did I not mention that? :)

I haven't posted in a while, and was going to take a break to work on an exciting new endeavour in my life. Of which I am very much deep into.... but while baking up Christmas cookies, I tried a batch of these and they turned out amazing! I've since made many variations and just had to post this one to the blog. I'll still be taking a break from posting... unless of course I come across a super awesome recipe to share... And I'll share my big news soon... I promise... in the new year. It's been a busy few months and will be a very busy year to come!!

Stay tuned. But in the meantime, here's a great recipe for a sweet treat!


Maple Blueberry Walnut Oatmeal Cookies

Total Time: 5 min prep + 14 min baking

Ingredients:
2/3 cup sunflower seed butter
2/3 cup maple syrup
3 tbsp melted coconut oil
1 egg
1 tsp vanilla
1 tsp baking soda
1 tsp baking powder
1 cup oat flour (process oats in a food processor for a few seconds!)
1 1/2 cups oats
Handful Walnuts
Handful Dried Blueberries

What to do:

1) Preheat oven to 350 degrees fahrenheit. Grease baking sheets or line with parchment paper.

2) Process 1 cup oats in food processor to turn into a 'flour'. Remove from food processor and set aside.

3) Using a food processor or mixer, combine sunflower seed butter and maple syrup. Add coconut oil and then egg until combined. Then vanilla, baking soda, baking powder, and oat flour. Mix thoroughly until smooth and sticky.

4) Switch to using a large spoon and add oats, walnuts, and dried blueberries. Stir to combine.

5) Spoon onto lined/greased cookie sheet about an inch apart from each other. Bake on middle rack for 12-14 minutes, until crisping up just on the edges. Remove from oven and cool on a cooling rack. Eat 'em up or freeze them. They are delicious straight out the freezer, too! :)



Powered by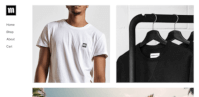 Create your own unique website with customizable templates.