healthfully delicious
real food. real life.
This was one of those weekend 'oh we have too many random vegetables, time to eat either a soup or stir fry' meals. But it turned out to be one the best soups I've ever made! So, I decided to post it, hoping I can remember how I made it. The maple sausage was what did it, I think. It offered a perfect amount of sweetness.

Total Time: about 40 minutes I think?

Ingredients:
2 maple sausages, sliced (we use a locally made sausage which has ingredients clearly labelled)
1 onion, diced
3 carrots, peeled and chopped
1 sweet potato, peeled and chopped
1 zucchini, chopped
1 leek, diced
1 fresh tomato, diced
6 cups organic chicken stock
1 tbsp fresh thyme
1 tsp basil
2 garlic cloves, minced
dash sea salt/pepper
oil for cooking

What to do:

1) Using a large soup pot, sauté sausage with a bit of oil over medium heat until browned. Add onion, carrots and sweet potato and continue cooking. Add water if needed to deglaze as veggies brown.

2) Add all other veggies, spices, and stock. Use a bit of water if needed to cover veggies. Let come to a boil and then simmer until veggies are cooked.

Eat up!! Careful, it's hot!

Stores well in freezer!





---
Powered by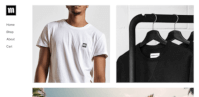 Create your own unique website with customizable templates.