healthfully delicious
real food. real life.
Tonight's dinner was brought to you by... a sweep of the fridge 1 day before grocery day! Thawed some haddock we had in our freezer and made a quick tossed salad with some fresh veggies that were also soon to go bad. And yes, again, we just had to have some roasted veggies... you will soon see, this is our classic fall back. Also, I can't seem to make fried fish without potatoes on the side... maybe it's a Maritime thing?

For the sake of repeating myself, here's how we made the fish & the salad dressing:

Total time from start to finish: 15 minutes + thawing time if using frozen fish (30 minutes total if adding roasted veggies to your plate)

What you'll need:
Fresh or thawed Haddock
Whole Wheat Flour (can totally substitute another kind of flour to your liking/diet)
Spices, if you'd like, to add to your flour mixture for the crusty coating (I love paprika)
1 egg, beaten
Veggies for a salad (we used tonight: romaine lettuce, vine ripened tomatoes, english cucumber, and matchstick-cut carrots - Lee also added some cheddar cheese to his)
Dressing: Extra Virgin Olive Oil, Balsamic Vinegar, Pure Blueberry Juice, Maple Syrup, 1 clove garlic, sea salt/pepper
Fresh cut lemon slice for flavour at the end!

What to do:

For the fish, make sure they are fully thawed. Cut the fish into manageable pieces, usually about 6 inches or so long. Heat oil on medium heat in a good, sturdy frying pan - not a warped one or it won't cook evenly. Put flour into one small dish (I use dessert plates) and the beaten egg into another small dish. Dip your fish first into the egg to coat. Then toss lightly in flour dish to coat. Then add to pan, making sure it sizzles loud and clear. Let cook a few minutes and then turn over and cook for a few more minutes. It should be golden brown on the cooked side. Fresh fish doesn't take long to cook, depending on how thick it is. Normally about 5-7 minutes.
Spritz with a little lemon after cooking if you like. (I do!)

For the dressing, whisk together:
1/2 cup oil, 1/4 cup maple syrup, 1/4 cup blueberry juice, 1/4 cup balsamic vinegar, 1 clove minced garlic and dash of salt/pepper.

I do love lemons a lot, but if you're looking to have more water in your diet but hate the blandness of it - add a sliced lemon, or lime, or cucumber. It adds a light natural flavour to your simple glass of water!



---
Powered by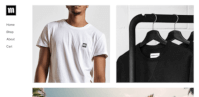 Create your own unique website with customizable templates.