healthfully delicious
real food. real life.
I love fish cakes, just never thought of it as something to make at home. Apparently lots of people make them! And now I know why! They were cheap and easy! :) And they tasted delicious. I know because Lee went back for more. I looked up many recipes for different variations of fish cakes and settled on a fairly simple recipe. I even used salt cod, which I realized later I didn't have to, but it was a good experience to de-salt fish! Wasn't hard at all. We paired out fishcakes with homemade cole slaw (recipe below as well), and not homemade (sorry to disappoint) but organic baked beans.

Total Time: A long time if de-salting fish... this process took about 30 minutes (and this is the fast method), but once the fish was de-salted, the meal came together in about 30 minutes. So, about an hour for me this night. They freeze well though, and this recipe made 13 fish cakes, so we will have them ready to defrost for another meal or for lunches.

Ingredients:

Fishcakes:
1 package of salt cod & lots of water!
4-5 good sized potatoes (I used a mixture of yukon gold and white potatoes) - peeled and chopped into chunks
1 onion, chopped small
2 eggs, mixed in a separate bowl
1 tsp or a bit more of garlic (I used powder for this recipe)
1 tsp or a bit more of summer savoury
A couple dashes of pepper and sea salt
Oil or butter for frying

Cole Slaw:
1 cabbage, diced
1 carrot, peeled and grated
1 red onion, diced
1/2 cup spectrum mayo (no sugar added)
1 tbsp coconut sugar
1 tsp apple cider vinegar
juice of a 1/4 lemon
dash sea salt/pepper

What to do:

1) De-salt fish the fast way - cover fish in large pot with water. Bring to a boil. Strain. Repeat 2 more times!

2) Boil potatoes until almost tender. Add fish pieces and continue boiling for a few more minutes.

3) Strain out water and mash together. Add all other ingredients. Mix together till it is all blended. Careful not to work it too much as the potato becomes very starchy.

4) Form into smallish patties, whatever size you like really. My batch gave us about 13 patties.

5) Heat oil or butter over medium heat. Add 4 of 5 patties to the pan. Brown on each side and remove from pan, set on a paper towel to absorb some of the grease from the pan. Serve, enjoy!


Cole slaw:

1) Mix veggies together.

2) Mix dressing together.

3) Mix it all together! Let sit in fridge for about 30 minutes if you can before serving.

---
Powered by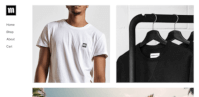 Create your own unique website with customizable templates.