healthfully delicious
real food. real life.
I have to admit, this was the first time I've attempted making my own bean burgers. I've always purchased them from the grocery store in the past - but no more! I looked up a few different recipes and realized, hey, these aren't that hard to make at all! (Which has generally been our motto this past year!) Another meal that I LOVE and can make on our own. These are cheap cheap cheap to make and I combined a couple recipes with what I liked from each. I loved them, but I think next time I will use black beans (my favourite bean I think!) and I will try it with whole wheat flour instead of tortilla chips to see what the difference is. But this recipe left us with 6 burgers, we each had 1, and and then another one for a snack, and so there are 2 in our freezer. Plus, beans were on sale this week at Superstore - .89 cents! So this is such a cheap meal! And of course, delicious, or I wouldn't post it. (And yes, there have been plenty of not do delicious attempts that have not been posted! haha)

Total Time from start to finish: 30 minutes

Ingredients:
1 can dark red kidney beans, preferably organic, rinsed
1 onion, diced
1 clove garlic, minced
1 small pepper, diced
2 tbsp chilli powder
1 tbsp chili flakes, cumin
1/2 cup smashed tortilla chips (organic)
1 egg, whisked
Suggestions to also add or swap: corn, dried chilli pepper, carrot shreds, flour or breadcrumbs instead of tortilla chips, salsa instead of fresh veggies)

What to do:

1) Mash beans until they become like a paste.

2) Add all remaining ingredients and blend together with hands. Form into paddies and let sit in fridge until ready to grill/fry/bake.

3) We grilled them on the BBQ. We first laid down a piece of greased aluminum foil and then placed the bean burgers on this so they wouldn't crumble. Cook on both sides for about 8 minutes each.

4) We topped it with a dollop of salsa, tomato, and lettuce. Lee would have liked some cheese,but we didn't have any, poor guy!

Enjoy!




---
Powered by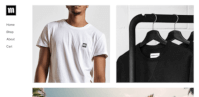 Create your own unique website with customizable templates.