healthfully delicious
real food. real life.

The weather right now is yucky November damp cold. It is just gross out. Seriously. Not a fun time to live in Nova Scotia. It is in serious need of a steaming cup of deliciousness. Thus calls for stew. And lots of it!

So, enter this awesomely easy pork stew. Full of chunky pork loin, butternut squash, and carrot in a broth of spiced diced tomatoes. And better yet, it can be cooked easily in a slow cooker and ready to eat in 4-5 hours.


Here's what we did!

Total Time: 4-5 hours on low

Ingredients:

1 pound or so of pork loin, chopped in a chunks
1 onion, diced
2-3 carrots, chopped
1 butternut squash, chopped
4-5 leaves swiss chard, stems removed, chopped
1 stalk leek, chopped
1 can diced tomatoes (read ingredients for added salts, etc) (this organic brand also had a bit of organic tomato paste added to it to make it extra tomato-ey)
sea salt/pepper as needed
1 tbsp cumin
1 tbsp chill powder


What to do:

1) Cook pork, cut up, briefly in a hot oiled pan to brown edges. Transfer to slow cooker.

2) Add all remaining ingredients. Cook on low for 4-5 hours!

3) Stir if you're around. Season as needed. Devour!



---

Yes, that's right. Pumpkin Fudge. It is amazing.

I found the recipe last year

here

. I can't take credit for it, but have definitely made this time and time again. It's popular, unique, and oh so tasty. Creamy and sweet, without refined sugar or dairy! Plus, it uses pumpkin, which are very easy to come by this time of the year! It is VERY simple to make. For the chocolate topping, I used a version of my own chocolate sauce that doesn't use chocolate chips or any dairy. Also, chocolate sauce whips up quickly and stores well in the fridge if you have extra!

This fudge would work with canned pureed pumpkin, as well.

Total Time: 5-10 minutes for prep, 1-2 hours in freezer

Ingredients:

Fudge:

1 cup almond butter

1/4 cup coconut oil (softened but not melted)

1/3 cup pumpkin puree (fresh or canned)

2 tablespoons maple syrup (or honey)

1/4 teaspoon ground cinnamon

dash of ground nutmeg

1/2 teaspoon fine sea salt

Chocolate Sauce:

1/2 cup coconut oil

1/2 cup honey or maple syrup or sweetener of choice

1 tbsp. cocoa powder

1 tsp vanilla

What to do:

1) Line a baking dish (I used a 6″ x 9″ brownie pan) with parchment paper or plastic wrap, two pieces works so the paper can go up both sides.

2) Mix all of the ingredients for fudge together in a large mixing bowl until totally mixed. It should be creamy and smooth. Pour the mixture into the lined dish and smooth it out with a spatula.

3) Place in the freezer until solid, approximately 1-2 hours.

4) Just before you are ready to pull the fudge out, melt together your ingredients for a chocolate sauce. Use a whisk to ensure it is all mixed together, sometimes the coconut oil will separate.

5) Lift the fudge out of the pan by grabbing the sides of the parchment paper and cut it into 1-inch squares. Place the squares in a single layer onto a parchment paper lined tray or pan. Using a spoon, drizzle the melted chocolate sauce over top of all of the fudge. Add a sprinkle of cinnamon or sea salt, if desired.

6) Return back to the freezer in a sealed container. This must be kept in the freezer until ready to eat.

Source:

Vegan Pumpkin Spice Almond Butter Fudge | Free People Blog http://blog.freepeople.com/2013/10/vegan-pumpkin-spice-almond-butter-fudge/#ixzz2jaQ0UXfh

---

After experimenting over and over again with pumpkin muffins, I was coming up with uncooked, messy excuses for a muffin. I was quickly depleting my source of pureed roasted pumpkin and had nothing to show for it. So, I decided to take a risk and make up my own recipe for pumpkin muffins. I've never done this before with baking. Baking scares the heck out of me. You put all these ingredients together until it's a soppy, sticky mess and then somehow, with the right amount of heat and time, it scientifically transforms it into a fluffy, moist, and flavourful food. Cooking is far different - you taste as you go, so you know where you are going or at least you can adjust as it cooks. Definitely not the case for baking... Any who, so off I went, using dry ingredient amounts based off another recipe and then just went for it with the wet ingredients. I decided to use almond butter as I feel this is a never fail ingredient. Assuming you can eat almonds, it seems to make everything so tasty, so I figured this was a safe route.

The result was great! Obviously, or I wouldn't be posting it! It was sweet and moist and cooked well. Some of you baking experts may disagree, but for an amateur like me, I thought this was quite successful. :) Try them and let me know what you think:

Total Time: 35-40 minutes

Ingredients:
2 cups flour (I used whole wheat)
2 tsp baking powder
1/2 tsp baking soda
1 tsp cinnamon
1/2 tsp nutmeg
1/4 sea salt
1/2 cup maple syrup
1/4 cup almond milk
1 tbsp canola oil
1/2 cup almond butter
1 cup pureed pumpkin
handful of chopped almonds (optional)

What to do:
1) Preheat oven to 350 degrees fahrenheit. Prep muffin pan with liners.

2) Stir dry ingredients together in one bowl. Mix wet ingredients in another bowl.

3) Pour one bowl into the other bowl... haha (I know this is terrible baking instructions... I just can't remember which went into which, and knowing me, I didn't put much thought into this part. Again, remember, not a baker here)

4) Blend until no lumps and relatively smooth. Add chopped almonds if you wish.

5) Place spoonfuls in muffin liners, just up to the rim.

6) Bake for about 30 minutes or until toothpick inserted comes out clean! Move to a cooling rack and eat one, of course, right our of the oven. :)



---
Powered by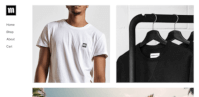 Create your own unique website with customizable templates.