healthfully delicious
real food. real life.
A definite favorite for Mac and Zoey. Mac was pooling in a puddle of drool while he patiently waited for me to take this picture. They are very easy and probably the cheapest dog treats I've made. I took an applesauce dog treat recipe and added peanut butter. They still worked out, the dogs love them, and they are made with NORMAL ingredients. A much better treat for your fur baby!

Total Time: 30 minutes

Ingredients:
3 cups whole wheat flour
2 tbsp cinnamon
1/2 cup applesauce - NO SUGAR ADDED
1/4 cup peanut butter - NATURAL
1/4 cup warm water
1 egg

What to do:

1) Preheat oven to 350 degrees Fahrenheit.

2) Put all ingredients in a large mixing bowl. Mix together until it can be formed into a large ball of dough for kneading. Add water/flour as needed it the consistency isn't right.

3) Remove from bowl and roll out onto a lightly floured surface. Roll until it is fairly thin, about a 1/4 inch or so in thickness.

4) Use a pizza cutter to cut into vertical strips and then cut overtop horizontally to make small square pieces. Or, if you have time, use a little cookie cutter... but I make these too often to put any effort like that into it. The dogs don't care what they look like! :)

5) Bake on a cookie sheet for about 20 minutes, or until crunchy but not burnt. Store in air-tight container or in the fridge. I freeze half as well, they freeze well.

---

Okay, I didn't need to call is zuppa. But that was fun. So I will. Zuppa it is! It's really just a delicious hearty tomato & basil soup with chunks of chicken and veggies. But it came out so good, and I tried to make it based off of a delicious soup that Lee and I eat at an Italian restaurant nearby. Here's our version!

Total Time: 45 minutes

Ingredients:
drizzle of oil for cooking high heat
1 Onion, diced
2 cloves Garlic, minced
2-3 cups broth (chicken or veggie)
5-6 fresh tomatoes, diced or 1 can of diced tomatoes
1 can tomato paste
1/2 cup fresh basil, chopped finely
dash of sea salt/pepper
veggies of choice: I used carrots, green beans, broccoli, zucchini, kale
meat of choice: I used 2 cooked chicken breasts, chopped small (cook these separately or do them first before the onions.)

What to do:

1) If cooking chicken, do this first with a little oil. Leave in pot or remove and add later, whatever you prefer. I often remove and add later so chicken doesn't dry out, but it tastes good both ways.

2) Heat oil over medium heat. Add onion and garlic. Saute until onions are fragrant and translucent.

3) Add veggies of choice. Add broth and let veggies cook, on high heat, for about 7 minutes or so, but don't overcook them! Too soft will turn into mush. Add tomatoes, basil, and salt/pepper. Turn heat down after veggies are almost cooked, after a few minutes, add tomato paste. Stir in chicken, if pre-cooked separately. Taste test and serve with crust of the bread!



---

Have some potatoes that are on they way out? Beets you don't know what to do with? Even parsnip, kale, sweet, potato, turnip, sunchokes, cabbage? This is my go-to recipe to use them up and enjoy every last bit of them! Thick cut or thin cut, however you like them. Honestly, I have not had a veggies that turns out bad by a little roasting action You control the oil and salt, and if you know where they grew, these are a much healthier way to enjoy a bowl of chips!

Total time: 15-35 minutes, depending on the veggie being chip-a-fied

Ingredients:
Veggie of choice (above is white new potatoes and beets)
Oil (I use canola or olive oil, but whatever you have I'm sure will work)
Sea Salt
Pepper

What to do:

1) Preheat oven to 425 degrees Fahrenheit.

2) Wash and slice veggies to desired thickness. A food processor or mandolin works well, but sometimes I just slice by hand. It all works! Peel if you want, but I always leave the peel on.

3) Toss in desired amount of oil and sea salt/pepper. I never measure, I just go until every chippie has touched the oil and has a bit of flavouring.

4) Place on a baking sheet flat, so that not chippie is covered. The more space they have, the crispier they will get.

5) Place in oven, but turn the oven light on. I watch them to see if they need flipping or are done earlier. The thicker the veggie, the longer it will take. Potatoes usually take about 20-25 minutes if I sliced them by hand.

---
Powered by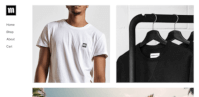 Create your own unique website with customizable templates.