Healthfully Delicious
Real food. real life.
Today for lunch I had leftover homemade pizza with spinach, asparagus, and sausage - no cheese. Yesterday, leftover roasted veggies like turnip, potato, sweet potato, carrots, and sunchokes. The day before a green salad with apples and sweet honey vinaigrette. It has become so normal to us now, that it took a comment from a coworker the other day to remind me that what we eat is not so normal. But it should be. I look at the lunches I bring now - VERY different than the lunches I was eating a couple years ago. I feel like a completely different person now, and food has honestly been responsible for my transformation. Real food. And the more we cook, the better we get at it, at least I think so because the food tastes so good! We barely go out to eat anymore, 1) because I hate being a picky eater and I now am one of those annoying customers to the waiter and 2) because the food we are making makes me feel like we are going out. And it so much cheaper!

We are also loving that TapRoot Farms is transitioning to organic. Not only are we sourcing our food locally, but now it is organic - safer for us to eat.

Here's some pics of some meals I've remembered to snap a picture of before I gobble it down. One that I missed taking a picture of that was delicious was an Orzo Salad with Asian Greens, Tomato, Apple, Chives, Pea Shoots, and Cucumber with an Agave Ginger Dressing. It was good, I'll make it again so I can post the recipe.

Stir Fry with CSA Carrots, CSA Bok Choy, CSA Asparagus, CSA Fiddleheads, CSA Asian Greens, CSA Radishes, CSA Alphalpha Sprouts over Jasmine Rice.

Roasted Pork Chops topped with CSA Chives and Black Pepper Corn, with roasted Veggies (CSA Potatoes, CSA Turnips) sprinkled with lemon juice & chill powder

Turkey Burgers: Lean Ground Turkey Patties topped with CSA Tomato, CSA Beet Greens, Dad's BBQ Sauce & Ketchup, Eden Organic Yellow Mustard, & Lee's Homemade Burger Buns - toasted. Summer is almost here!!! With of course BBQ's CSA Potatoes.

Truth:

Life IS busy and unpredictable. And, yes, time is valuable. But what you eat can make or break it. So make it last. Make it count.

Cook. REALLY cook. Don't just tear open a package or crack open a jar. But cook - you know - mixing spices, simmering sauces, sautéing .. Yep, the real deal. It's really not that hard once you open your mind to it.

Seriously.

Read

our story

and try out some of our

recipes

. We really cooked these things (and ate them, too!). On weeknights. We even had time to do the dishes.

And yes, there is no refined sugar, soy, or dairy in any of these recipes. And often, they are vegan, gluten-free, or nut-free friendly.

Enjoy!

A bit about me...

Adele
30 year old
teacher, tutor
chef wannabe
health-nut
wife to handsome hubby Lee
Mom to beautiful baby Hannah Ruth and
fur-babies
Mac & Zoey


Archives

August 2014
March 2014
February 2014
January 2014
December 2013
November 2013
October 2013
September 2013
August 2013
July 2013
June 2013
May 2013
April 2013
March 2013
January 2013


RSS Feed
Powered by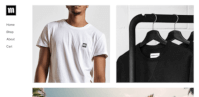 Create your own unique website with customizable templates.