Healthfully Delicious
Real food. real life.
Summer is definitely here and our CSA boxes are overflowing! I'm pretty proud of us - keeping up with all of the fresh veggies and finding delicious ways to eat them up! I am so happy we decided to do CSA's finally - I can't see us going back to our grocery store shopping ways. We have gotten used to getting our weekly CSA box, stopping at the local market for other fresh food to compliment our CSA boxes, and only using grocery chains for certain toiletry items or specialty cooking items. Here are some pics of some of the meals we've been eating. I find I'm always wanting to snap a pick of my plate before I gobble it up just to show you. Blogs are a great way to let you gloat about yourself... haha

Stir Fry! A classic in our house, weekly! This one features lots of greens, carrots, peas, peppers, and zucchini. Over jasmine rice.

Dairy-free Hodge Podge Soup - featuring new potatoes, carrots, kale, yellow beans, peas in a almond milk/chicken broth, thyme and garlic broth.

Portobello Mushroom Ravioli! Sooooooo good. Mushrooms were sauteed with garlic and green onion, then wrapped around home-made whole wheat pasta with a Tomato Basil Pesto Sauce.

Stir Fry in sections - long grain white & wild mixed rice, scrambled farm fresh eggs, with sautéed swiss chard, kale, zucchini, bok choy, and yellow beans with a spicy honey lime sauce.

Truth:

Life IS busy and unpredictable. And, yes, time is valuable. But what you eat can make or break it. So make it last. Make it count.

Cook. REALLY cook. Don't just tear open a package or crack open a jar. But cook - you know - mixing spices, simmering sauces, sautéing .. Yep, the real deal. It's really not that hard once you open your mind to it.

Seriously.

Read

our story

and try out some of our

recipes

. We really cooked these things (and ate them, too!). On weeknights. We even had time to do the dishes.

And yes, there is no refined sugar, soy, or dairy in any of these recipes. And often, they are vegan, gluten-free, or nut-free friendly.

Enjoy!

A bit about me...

Adele
30 year old
teacher, tutor
chef wannabe
health-nut
wife to handsome hubby Lee
Mom to beautiful baby Hannah Ruth and
fur-babies
Mac & Zoey


Archives

August 2014
March 2014
February 2014
January 2014
December 2013
November 2013
October 2013
September 2013
August 2013
July 2013
June 2013
May 2013
April 2013
March 2013
January 2013


RSS Feed
Powered by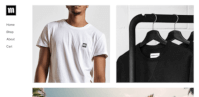 Create your own unique website with customizable templates.