Healthfully Delicious
Real food. real life.
Below are a few meal pics in our household. All meals are clean of refined sugar, soy, and dairy. Sometimes vegetarian, egg-free, gluten-free, nut-free, etc. All meals are meant to be balanced in veggies, proteins, carbs... but sometimes... I just can't resist extra carbs... :)

I post these pics for you, mainly. Of course there's a bit of selfish pride in showing off our budding culinary successes... But, mainly, I post these to provide some kind of inspiration for you if you're thinking about trying to eat healthier/cook from scratch more often. Lee and I went from being "take-out/pre-packaged meal" kind of folk to the now "cook-from-real-ingredients-without-a-microwave" kind of folk. It was challenging at first, but we stuck with it and formed a new habit, which included becoming part of a CSA, weekly meal planning, and keeping staple real food ingredients stocked to be able to make anything with our CSA food. The hardest part was definitely learning to cook, like actually cook, and learning to read ingredients on everything we buy/eat. It's seems simple to say it now, but honestly, once we noticed a dramatic difference in our energy, weight, and grocery bill, we knew this was something we had to stick with. We both noticed these difference within a month of eliminating refined sugar. Lee still eats dairy and the occasional sugar now and I have completely eliminated dairy, soy, and sugar. It has become a new normal for us and we are so happy about it. I write this blog to share our experiences with this and to maybe inspire you to whatever you are looking for. :)

I'll post a couple recipes from this one as well: Pumpkin fudge and Pumpkin Almond Muffins for sure! Please let me know if you want a recipe for anything else you see!



Roasted Potatoes, Carrots, and Cabbage with pan seared peppercorn pork chop with apple sauce for dipping!

Truth:

Life IS busy and unpredictable. And, yes, time is valuable. But what you eat can make or break it. So make it last. Make it count.

Cook. REALLY cook. Don't just tear open a package or crack open a jar. But cook - you know - mixing spices, simmering sauces, sautéing .. Yep, the real deal. It's really not that hard once you open your mind to it.

Seriously.

Read

our story

and try out some of our

recipes

. We really cooked these things (and ate them, too!). On weeknights. We even had time to do the dishes.

And yes, there is no refined sugar, soy, or dairy in any of these recipes. And often, they are vegan, gluten-free, or nut-free friendly.

Enjoy!

A bit about me...

Adele
30 year old
teacher, tutor
chef wannabe
health-nut
wife to handsome hubby Lee
Mom to beautiful baby Hannah Ruth and
fur-babies
Mac & Zoey


Archives

August 2014
March 2014
February 2014
January 2014
December 2013
November 2013
October 2013
September 2013
August 2013
July 2013
June 2013
May 2013
April 2013
March 2013
January 2013


RSS Feed
Powered by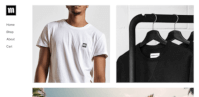 Create your own unique website with customizable templates.