Healthfully Delicious
Real food. real life.
There are some pretty awesome kitchen tools that have been given to us over the past couple years that we use all of the time now! They have definitely made learning to cook from scratch easy and fun. I'd recommend any of the following items for you to use in the kitchen, if you aren't already doing so!


1. Flexible Measuring Cup
No spills when pouring, clear so you can see how much you are adding in - perfect for whipping up homemade sauces.

---

2. Bamboo Steamer
Steams your entire meal if you want and the easiest clean up afterward! Very easy to use! We use it a lot for salmon or chicken with veggies.

---

3. Flexible Cutting Boards
Peel, chop, bend and pour into the compost, the bowl or the pot! No mess!

---

4. Finger-slip Peeler
Fast and gets around all of the curves on a sweet potato or parsnip!

---

5. Non-Stick Ceramic Roasting Dish
Perfect for roast apple! We also use it a lot for veggies or seared meat. Wipes clean with one swipe.

---

6. Lemon Saver Container
Saves your lemon from drying out if you've haven't used the whole thing. It is always in use in our house.

---

7. Zester & Grater
Nutmeg, Garlic, Ginger, Lemon, Lime - it does it all!

---

8. Vinaigrette Emulsifier Serving Bottle
Pull the handle to blend your vinaigrette right as you're serving it!

---

9. Immersion Blender
Make blended soups or sauces right in the pot, detaches for easy clean up - much easier than a regular blender or food processor. Also great for making single serve smoothies!

---

10. Food Scooper/Scraper
Most useful tool in the kitchen by far. Scraps away mess, transfers food from the cutting board to the pot quickly and with one swoop.

---

Truth:

Life IS busy and unpredictable. And, yes, time is valuable. But what you eat can make or break it. So make it last. Make it count.

Cook. REALLY cook. Don't just tear open a package or crack open a jar. But cook - you know - mixing spices, simmering sauces, sautéing .. Yep, the real deal. It's really not that hard once you open your mind to it.

Seriously.

Read

our story

and try out some of our

recipes

. We really cooked these things (and ate them, too!). On weeknights. We even had time to do the dishes.

And yes, there is no refined sugar, soy, or dairy in any of these recipes. And often, they are vegan, gluten-free, or nut-free friendly.

Enjoy!

A bit about me...

Adele
30 year old
teacher, tutor
chef wannabe
health-nut
wife to handsome hubby Lee
Mom to beautiful baby Hannah Ruth and
fur-babies
Mac & Zoey


Archives

August 2014
March 2014
February 2014
January 2014
December 2013
November 2013
October 2013
September 2013
August 2013
July 2013
June 2013
May 2013
April 2013
March 2013
January 2013


RSS Feed
Powered by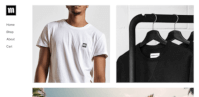 Create your own unique website with customizable templates.