Healthfully Delicious
Real food. real life.
I've learned a lot (still learning a lot) over our journey through this food transformation and eating this way has become very normal to me now. But I still remember what it was like before it was normal. It was hard, for sure. It was, and still is, difficult to eat out at restaurants or to go on trips because people can't believe I don't eat sugar. The dairy/soy is easier for most folks because it's a common food allergy, and definitely becoming more apparent. But the sugar, as I've realized, is still something new to most. Sugar is in pretty much every mainstream packaged item and many don't realize that they are almost addicted to that refined sugar. I definitely was! I thought I was eating healthy, but I really wasn't now that I look back. I was falling for the 'fat free, health check approved' marketing schemes on the front of the package and didn't understand the long words in the ingredient part of the package. But now, as both a teacher and a health/organic/local/whole/real food nut, I've come to a conclusion - people need to learn about food! Also, I'm sure many teachers can agree, I have seen dramatic transformations in children who I teach when their eating and activity lifestyles are changed into healthy and active. Many things change. Many MAJOR things change. Their focus is stronger, their huper activity is reduced. Their thoughts are clear. Their productivity increases. Their mood is happier. Their relationships are stronger. Their imagination is THERE. Their sense of humour improves. Their level of respect rises. Their appreciation improves. I'm telling you, eating real, whole foods not only drops a few pounds and makes you feel good about yourself. It can dramatically improve your quality of life for you and your children, at home, school, work, everywhere.

So, as I was emailing this to a concerned parent the other day, I thought it might be useful to others out there, as well. So take it for what it's worth, but here's my suggestions for taking on a healthier lifestyle for you and your family. Please remember: My perspective is a teacher and health nut. I do not have children of my own and I'm 29 years old. Surely, everyone's experiences will be different.

I consider 3 main areas when I think about lifestyle changes:

1) Significantly reduce or eliminate refined sugars and processed foods, 2) Participate in about 45 minutes of physical activity every day, 3) Get outside when possible to soak up vitamin D and participate in imaginary/active/leisure activity that is real (not video/computer/media based).

A few suggestions to start the first and hardest one:

1)

Learn about food

, meal planning and cooking, and the basics of why eating healthy is not a diet, but a lifestyle. The best way to take on a healthy eating lifestyle is to learn why and how, which truly means, learning about food. There is so much information out there, but I would suggest looking into the following links:

http://www.ted.com/talks/jamie_oliver.html

,

http://www.simple-balance.ca

,

https://www.youtube.com/watch?v=ccYsiM3lMvg

,

http://www.cleaneatingmag.com

,

http://www.thegraciouspantry.com/category/clean-eating-101/clean-living/ http://healthfullydelicious.weebly.com

(This is my website! :)

If you have Netflix, there is also some great food-related documentaries on there that I have enjoyed watching. I would HIGHLY suggest watching and reading all of these with your children, too, as they are younger, idolize you, have not formed life-long habits yet, and learn quickly. They will learn to appreciate why you would want to take this on for yourself and them. If you approach it as a goal for everyone in the family, working together to read labels, prepare meals and snacks, the more they will want to do it. However, I will say here that I fear you only have a small window of time here where they will be interested in doing it with you... once they get older and start to crave and get more independence, the harder it will be to influence them, I suppose. As a teacher, you definitely have to be more creative and patient in finding ways to motivate teenagers rather than elementary aged children.

2)

Start reading ingredients

. Get to know what you're eating. Your guilt will start to kick in eventually as to what your feeding yourself and your family. It's harsh to say this, but it's so true. haha :)

3)

Replace staple items with healthier, cleaner ones, one at a time

. This will most definitely mean shopping in the organic section. Sorry, but it's true. You're becoming one of those people. I've embraced it, you can, too. Yes, items are pricier, but they are much better for you, and after a while, you'll snack more on fresher food, or you'll end up making your own food, which drastically reduces the cost. If you can believe it, after 2 years of eating this way, my grocery bills are cheaper than they were pre-whole food eating. For example, Peanut Butter - go to the natural one without the added sugar. You won't just use it for snacking. It's a staple ingredient for cooking and baking, too. It has replaced many other packaged ingredients hat I used to buy easily. Ketchup, Heinz or no name, usually has sugar as it's second ingredient. Organic versions use natural sugars to sweeten. I use less of this than I ever did before, because I stopped eating hot dogs, don't use it on my homemade french fries because I load of spices, so really, it just goes on my homemade turkey burgers Bananas, for instance, were just a healthy snack before. Now, they are a staple ingredient for baking as well. For all of my pantry food replacements, like peanut butter, ketchup, margarine, mayonnaise, etc. , I find most versions don't taste very different than the sugar/preservative packed ones, but the ones that do taste different is mainly due to the fact that your tastebuds have been trained to crave sugar. It is kind of like an addiction. Addictions aren't good.

4)

Replace packaged meals/snacks with real meals/snacks.

Stock up on fruit and veggies to snack on. When buying any pantry items, buy ones that have 3 ingredients or less, and make sure they are ingredients that you know. For example - if you've ever read the label for cereal, it's scary. For treats, buy things like kettle cooked regular chips as they use sea salt, not regular salt (which contains sugar!) or air pop your own popcorn. I also have a lot of recipes for super healthy ice cream, chocolate cupcakes, etc. You can always treat yourself, but you'll appreciate it more and will treat it like a TREAT because it will seem rich to you, after your tastebuds get used to normal, real flavours, and you will eat less treats.

While working on the food stuff, start doing something active together every day, as a family. Go for a walk, play some wii fit games together, go bowling or skating or swimming. Get movin', TOGETHER! And the more you can get outside to do something together, the better you will feel with the fresh air and tangible experiences your children will cherish.

Truth:

Life IS busy and unpredictable. And, yes, time is valuable. But what you eat can make or break it. So make it last. Make it count.

Cook. REALLY cook. Don't just tear open a package or crack open a jar. But cook - you know - mixing spices, simmering sauces, sautéing .. Yep, the real deal. It's really not that hard once you open your mind to it.

Seriously.

Read

our story

and try out some of our

recipes

. We really cooked these things (and ate them, too!). On weeknights. We even had time to do the dishes.

And yes, there is no refined sugar, soy, or dairy in any of these recipes. And often, they are vegan, gluten-free, or nut-free friendly.

Enjoy!

A bit about me...

Adele
30 year old
teacher, tutor
chef wannabe
health-nut
wife to handsome hubby Lee
Mom to beautiful baby Hannah Ruth and
fur-babies
Mac & Zoey


Archives

August 2014
March 2014
February 2014
January 2014
December 2013
November 2013
October 2013
September 2013
August 2013
July 2013
June 2013
May 2013
April 2013
March 2013
January 2013


RSS Feed
Powered by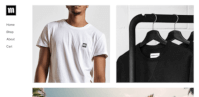 Create your own unique website with customizable templates.