Healthfully Delicious
Real food. real life.
We just renovated our kitchen. The biggest and quickest reno we've done so far in our house. It was the last room we hadn't really touched, but desperately needed to be done. It was a cramped, one person kitchen that wasn't made to make things from scratch in. It had only one counter and a corner sink. We made it work for 4 years but finally this winter we bit the bullet and went for it. Gutted the whole thing and started over. New layout, new cabinets, new appliances, new countertop.

---

We are now finally done and I couldn't be happier! It has so much space, lots of prep area, a nice large sink, big drawers and open shelving. Love it!

It was 2 months of contained kitchen mayhem, and we are so happy it's done. Cooking in this kitchen is s dream! I am so happy! And it wouldn't be possible without my amazing husband and his family. They did all of the work. From day 1 to the end. They worked tirelessly on creating my dream kitchen, in the middle of winter no less, and I am so grateful.

---

So, the first thing I wanted to do was to cook them a thank you meal in the new kitchen. And perhaps get over my fear of cooking a big turkey dinner at the same time? Felt like an opportune time... So, it was confirmed. We were going to cook a turkey. This was a bigger deal to us than it probably sounds to you. I'm not a big meat eater and therefore, haven't really had much experience in the 'roasting' department. I still have yet to cook a roast pork or beef, but I have done a whole chicken in a slow cooker. But I think the oven, now, is a whole lot easier! I see why this is so popular! Haha!


---

In the end, I had prepared a meal full of healthy options and most of it being from veggies we found locally or from our CSA. I even made the gravy from scratch, which was quite surprising if I do say so myself. I never like gravy, but I enjoyed this one, knowing how it was made and what was in it (just turkey drippings and whole wheat flour)


Our meal consisted of:

Roast Turkey (roasted with lemon halves, lemon balm, sea salt/pepper, and Earth Balance Butter)

Baked Potatoes (CSA)

Steamed Carrots (CSA)

Steamed Peas (CSA)

Honey-Sweetened Cranberry Sauce (CSA Cranberries)

Rice Stuffing with caramelized apples, onions, and dried cranberries (CSA apples, onions, and cranberries)*

Lee's Homemade Baked Bread (see recipe blog)

Chocolate Beet Cake with Banana Ice Cream (see recipe blog)

*The recipe for the Rice Stuffing Recipe, I found

here

.

It was delicious. Thank you Barry, Mark, Laura, and Lee for making it possible!! :)

Truth:

Life IS busy and unpredictable. And, yes, time is valuable. But what you eat can make or break it. So make it last. Make it count.

Cook. REALLY cook. Don't just tear open a package or crack open a jar. But cook - you know - mixing spices, simmering sauces, sautéing .. Yep, the real deal. It's really not that hard once you open your mind to it.

Seriously.

Read

our story

and try out some of our

recipes

. We really cooked these things (and ate them, too!). On weeknights. We even had time to do the dishes.

And yes, there is no refined sugar, soy, or dairy in any of these recipes. And often, they are vegan, gluten-free, or nut-free friendly.

Enjoy!

A bit about me...

Adele
30 year old
teacher, tutor
chef wannabe
health-nut
wife to handsome hubby Lee
Mom to beautiful baby Hannah Ruth and
fur-babies
Mac & Zoey


Archives

August 2014
March 2014
February 2014
January 2014
December 2013
November 2013
October 2013
September 2013
August 2013
July 2013
June 2013
May 2013
April 2013
March 2013
January 2013


RSS Feed
Powered by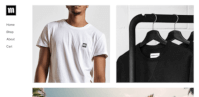 Create your own unique website with customizable templates.