Healthfully Delicious
Real food. real life.
Minestroni Soup with CSA potatoes, CSA spinach, CSA parsnips, CSA carrots, local pork sausage, egg noodles, organic canned tomatoes, spices, and broth.

Lee's Yummy Pizza - he makes the crust with whole wheat flour, water, yeast, sea salt, and honey. The toppings are: tomato sauce made with CSA tomatoes, local pork loin chops, CSA spinach, CSA dried peppers, market red and green peppers, market mushrooms, CSA tomato, our own basil, and cheddar cheese.

CSA Egg Scramble with CSA Tomatoes, Mart Peppers, Market Mushrooms with CSA Sweet Potato and CSA Potato Fries

Some other meals/snacks we had this week with our CSA goodies:
-Homemade Beet & Potato Chips - too good, they were gone before I could snap a picture!
-Roasted Pork chops with baked potato, and roasted parsnip & carrot fries
-Tuna Salad with apples, carrots, spinach, alfalfa sprouts, canola oil mayo, lemon juice, sea salt, pepper



Truth:

Life IS busy and unpredictable. And, yes, time is valuable. But what you eat can make or break it. So make it last. Make it count.

Cook. REALLY cook. Don't just tear open a package or crack open a jar. But cook - you know - mixing spices, simmering sauces, sautéing .. Yep, the real deal. It's really not that hard once you open your mind to it.

Seriously.

Read

our story

and try out some of our

recipes

. We really cooked these things (and ate them, too!). On weeknights. We even had time to do the dishes.

And yes, there is no refined sugar, soy, or dairy in any of these recipes. And often, they are vegan, gluten-free, or nut-free friendly.

Enjoy!

A bit about me...

Adele
30 year old
teacher, tutor
chef wannabe
health-nut
wife to handsome hubby Lee
Mom to beautiful baby Hannah Ruth and
fur-babies
Mac & Zoey


Archives

August 2014
March 2014
February 2014
January 2014
December 2013
November 2013
October 2013
September 2013
August 2013
July 2013
June 2013
May 2013
April 2013
March 2013
January 2013


RSS Feed
Powered by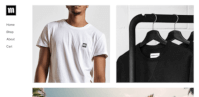 Create your own unique website with customizable templates.