Healthfully Delicious
Real food. real life.
We've learned that there some ingredients that are always useful to have on hand, when following a recipe or making something up, especially when you can't have dairy, soy, or sugar and are trying to stay away from preservatives. We always keep these ingredients stocked!

Lemons, Limes, & Oranges

Garlic and Ginger
Oils: Extra Virgin Olive, Pure Sesame, Sunflower
Vinegars: Balsamic, Rice, Apple Cider
Nut Butters: Peanut( crunchy and smooth), Almond, Sesame (also called Tahini)
Spices: Chili Flakes, Chili Powder, Basil, Oregano, Paprika, Tarragon, Rosemary, Thyme, Cinnamon, Nutmeg, Cumin, Curry, among lots of others!
Sweeteners: Maple Syrup, Honey, Agave, Coconut Syrup, Maple Sugar. Stevia is another one, but I haven't used it yet.
Soy Sauce Replacement: Coconut Aminos (AMAZING!)
Dairy Replacements: Unsweetened Almond Milk and Coconut Milk (not as many calories), although if you get the chance to try Quinoa milk it is awesome!, Earth Balance Soy-free, Dairy-free Buttery Spread - tastes like butter, can be used in recipes in place of butter and no one knows the difference! I was never a cheese person so I don't eat any replacements for cheese, but I've heard a lot of people loving Nutritional Yeast as a pizza topper, etc.
GoBio! bouillon cubes, both veggie or chicken, for broth and flavouring of certain dishes
Always have lots of fresh fruit and veggies in the fridge! Perfect for healthy snacking, but also extremely useful in creating healthy, delicious meals!
Also, keep stocked up on grains that you like and can eat. We eat a lot of rice, and keep whole wheat flour on hand. I also keep quinoa and cous cous stocked.






---

Truth:

Life IS busy and unpredictable. And, yes, time is valuable. But what you eat can make or break it. So make it last. Make it count.

Cook. REALLY cook. Don't just tear open a package or crack open a jar. But cook - you know - mixing spices, simmering sauces, sautéing .. Yep, the real deal. It's really not that hard once you open your mind to it.

Seriously.

Read

our story

and try out some of our

recipes

. We really cooked these things (and ate them, too!). On weeknights. We even had time to do the dishes.

And yes, there is no refined sugar, soy, or dairy in any of these recipes. And often, they are vegan, gluten-free, or nut-free friendly.

Enjoy!

A bit about me...

Adele
30 year old
teacher, tutor
chef wannabe
health-nut
wife to handsome hubby Lee
Mom to beautiful baby Hannah Ruth and
fur-babies
Mac & Zoey


Archives

August 2014
March 2014
February 2014
January 2014
December 2013
November 2013
October 2013
September 2013
August 2013
July 2013
June 2013
May 2013
April 2013
March 2013
January 2013


RSS Feed
Powered by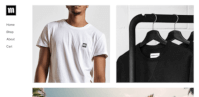 Create your own unique website with customizable templates.