Healthfully Delicious
Real food. real life.
Who is this picky eater you ask? It turns out it might be this little growing baby of ours... I have to admit... my tastebuds changed drastically within the first 5 months of pregnancy. All I've wanted to eat was carbs. Carbs, carbs, proteins, and more carbs. Oh yeah, and no veggies. Oh joy.

Yeah, this was not fun. I am tired, achy, and now I have to cook for a picky eater. Perhaps this is telling me something about what my life has become with baby on the way? Eeek!

Talk about having to be a bit more creative in the kitchen! If I wanted to keep up with our CSA veggies, stay healthy for the baby, which includes eating, unfortunately for the time being, I had my work cut out for me. I had a few things I would eat, in fairly plain ways, like baked potatoes or spicy chill, but other than that, I was totally off of veggies. Roasted veggies - no. Steamed veggies - no. I felt like a kid again. I felt bad for Lee, too. For his tastebuds hadn't changed, but there was no way he was eating that entire squash himself. I had to do soothing about it. Having to come up with creative ways to hide or make my vegetables taste not like vegetables, I felt like I was cooking for a kid. But, now that I look back, I'm impressed with what I've been coming up with. Maybe I'll give you a few ideas!

Loaded Spicy Sweet Chilli - with ground pork and extra veg (carrots, corn, beans, peppers, leeks). And of course, warm whole wheat bread to go with.

Maple Balsamic Baked Chicken with roasted squash, baked potato, and mashed turnip. Everything topped with the leftover maple balsamic glaze!

Mac n' Sweet Potato Cheese Casserole - with corn, peas, and chicken baked in. Topped with bread crumbs and nutritional yeast.

Truth:

Life IS busy and unpredictable. And, yes, time is valuable. But what you eat can make or break it. So make it last. Make it count.

Cook. REALLY cook. Don't just tear open a package or crack open a jar. But cook - you know - mixing spices, simmering sauces, sautéing .. Yep, the real deal. It's really not that hard once you open your mind to it.

Seriously.

Read

our story

and try out some of our

recipes

. We really cooked these things (and ate them, too!). On weeknights. We even had time to do the dishes.

And yes, there is no refined sugar, soy, or dairy in any of these recipes. And often, they are vegan, gluten-free, or nut-free friendly.

Enjoy!

A bit about me...

Adele
30 year old
teacher, tutor
chef wannabe
health-nut
wife to handsome hubby Lee
Mom to beautiful baby Hannah Ruth and
fur-babies
Mac & Zoey


Archives

August 2014
March 2014
February 2014
January 2014
December 2013
November 2013
October 2013
September 2013
August 2013
July 2013
June 2013
May 2013
April 2013
March 2013
January 2013


RSS Feed
Powered by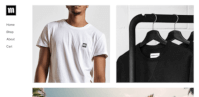 Create your own unique website with customizable templates.