Healthfully Delicious
Real food. real life.
I don't know about your home, but our home gets really warm when the outside temperature goes up! It's been about average 32 Celsius over the past little bit and that can make wanting to cook up a tasty meal not so inviting - the thought of adding more heat to the already stiffling kitchen - not fan! But we have all of these awesome veggies and fruits to use up, so here's what we came up with! In the end, we've learned how to make new salads, homemade salsas and tortilla wraps, and a better appreciation for the steamed green (they steam VERY quickly!!)

My most proud of meal - Homemade Fajitas! Includes homemade whole wheat tortilla wraps, homemade spicy salsa, not-homemade yet but still organic refried beans, and fresh local veggies. Recipe for Salsa and Wraps coming soon!

Lee's classic weekend brunch - pancakes with fruit. This time we used our CSA flour and it was amazing!! Best pancakes ever!

BBQ'd Veggies - cabbage, potato, sweet potato, turnips, asparagus with a toasted LTC sandwich (lettuce, tomato, cucumber)

My first fritatta! Asparagus, spinach, Sausage, Green Onion and Potato, with Cheese on Lee's side. Oh my goodness, delicious! And very easy! Recipe will be posted!

Steamed Greens, Jasmine Rice, topped with a lighter version of my peanut sauce... Lee, still not a fan of peanut sauce, ME - I could eat it every night for supper! Difference in tastebuds, but I think it's awesome!

Truth:

Life IS busy and unpredictable. And, yes, time is valuable. But what you eat can make or break it. So make it last. Make it count.

Cook. REALLY cook. Don't just tear open a package or crack open a jar. But cook - you know - mixing spices, simmering sauces, sautéing .. Yep, the real deal. It's really not that hard once you open your mind to it.

Seriously.

Read

our story

and try out some of our

recipes

. We really cooked these things (and ate them, too!). On weeknights. We even had time to do the dishes.

And yes, there is no refined sugar, soy, or dairy in any of these recipes. And often, they are vegan, gluten-free, or nut-free friendly.

Enjoy!

A bit about me...

Adele
30 year old
teacher, tutor
chef wannabe
health-nut
wife to handsome hubby Lee
Mom to beautiful baby Hannah Ruth and
fur-babies
Mac & Zoey


Archives

August 2014
March 2014
February 2014
January 2014
December 2013
November 2013
October 2013
September 2013
August 2013
July 2013
June 2013
May 2013
April 2013
March 2013
January 2013


RSS Feed
Powered by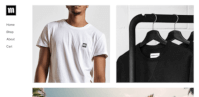 Create your own unique website with customizable templates.