Healthfully Delicious
Real food. real life.
We are very excited to start our first adventure with CSA's - Community Shared Agriculture. Haven't heard of it? Well, we hadn't either, until last fall when I noticed a friend post hers on Facebook. I looked into it and here we are - signed up for it to start April first! It didn't take much to convince us to join, especially now with all the veggies and fruits that we are eating! Knowing more about food also makes you think a lot about where your food is coming from. Hopefully, being a CSA member will help alleviate those worries!




Basically, CSA is a way to support local farms and benefit directly from it - with fresh farm goodies delivered to you every week! And since we are constantly buying veggies and fruits from the grocery store several times a week, we thought this seemed perfect for us! Not only are the veggies and fruits that we will be getting from the farm fresh, but we are also directly supporting a local farm!

When it came to getting started, we had to pick a farm to get our CSA from. There are tons to choose from! We found a

list

online of farms and what they offered for CSA's. We eventually chose

Taproot Farm

because they not only had a year-round CSA, but they also delivered to Fall River - minutes from our home! Most others delivered in Halifax, which in the winter, may not work well for us to pick up our orders every week. A lot of farms even deliver straight to your door if you live in the valley or south shore.

If this sounds interesting to you, you should check it out! We are set up to receive full shares of veggies and fruits every week. You can also sign up for meat shares, egg shares, and flower shares, depending on the farm. We would have loved to get on the egg share, but it was sold out by the time we were setting our CSA up.

I plan to load a picture every week, if I can, of what our shares get us. We're hoping that this will replace most of our veggie/fruit grocery trips. However, as much as I'd love eat only local, I'm not sure if I could go without the occasional avocado, banana, or pineapple. Plus, we go through a lot of lemons and limes for cooking. But we'll see how it goes! This is an exciting new adventure! We'll keep you posted!

-A.

Truth:

Life IS busy and unpredictable. And, yes, time is valuable. But what you eat can make or break it. So make it last. Make it count.

Cook. REALLY cook. Don't just tear open a package or crack open a jar. But cook - you know - mixing spices, simmering sauces, sautéing .. Yep, the real deal. It's really not that hard once you open your mind to it.

Seriously.

Read

our story

and try out some of our

recipes

. We really cooked these things (and ate them, too!). On weeknights. We even had time to do the dishes.

And yes, there is no refined sugar, soy, or dairy in any of these recipes. And often, they are vegan, gluten-free, or nut-free friendly.

Enjoy!

A bit about me...

Adele
30 year old
teacher, tutor
chef wannabe
health-nut
wife to handsome hubby Lee
Mom to beautiful baby Hannah Ruth and
fur-babies
Mac & Zoey


Archives

August 2014
March 2014
February 2014
January 2014
December 2013
November 2013
October 2013
September 2013
August 2013
July 2013
June 2013
May 2013
April 2013
March 2013
January 2013


RSS Feed
Powered by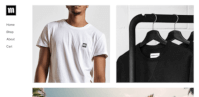 Create your own unique website with customizable templates.