Healthfully Delicious
Real food. real life.
I take pictures of what we eat all of the time. Mainly because I am still surprised that we can pull together a meal that looks and tastes so good. We are hardly chefs. But we've learned over time how to cook and use different ingredients to the taste we like - without leaning on pre-packaged meals/ingredients or eating junk.

This week's photos made me realize just how busy our week was! We had something on the go every night this week and had very little time to prepare supper. But, with a little meal planning on the weekend before, we pulled off a week of delicious eating, all under 30 minutes each - with most only taking about 10 minutes to prepare!

Take a look! I hope I make you hungry! It's Sunday - time to meal plan!

10 minute meal: Homemade Whole Wheat Linguine (prepared last Sunday while doing laundry - keeps in the fridge for up to 2 weeks!), topped with a quick tomato and chill sauce with leeks and peppers, green salad with apples, walnuts, alfalfa sprouts and balsamic vinaigrette

10 minute meal: Our go to for quick dinners! Organic Corn Tortilla Chips, topped with chopped napa cabbage, tomatoes, corn, peppers, leeks, organic refried beans, and salsa.

30 minute meal: BLT's made with Lee's bread, tomatoes, lettuce, and local bacon - and spectrum mayo, with a side of roasted sweet and white potatoes with paprika and spicy mayo sauce (mayo with chilli powder, paprika, and garlic)

30 minute meal: Fried Spring Rolls filled with spicy cooked ground pork, napa cabbage, carrot, leeks, and rice noodles, with a side of jasmine rice cooked with organic chicken broth and chilli peppers, tossed with scrambled egg. Homemade Garlic Chilli sauce on the side for dipping!

20 minute meal: Fresh Stir Fry (carrots, napa cabbage, peppers, broccoli, cauliflower, leeks, peppers, cashews, scrambled egg - mixed with a honey/garlic/ginger/rice vinegar/sesame oil mixture) over rice cooked in organic chicken broth.

10 minute meal: Homemade Tortilla Wraps (Already prepared on the weekend while renovating the kitchen and stored in the freezer for easy 30 second on the table defrost) filled with ground pork cooked with chilli powder, cumin, chilli flakes, lime, and peppers, fresh tomatoes, lettuce, green onion, and Lee's has a bit of cheese.

Truth:

Life IS busy and unpredictable. And, yes, time is valuable. But what you eat can make or break it. So make it last. Make it count.

Cook. REALLY cook. Don't just tear open a package or crack open a jar. But cook - you know - mixing spices, simmering sauces, sautéing .. Yep, the real deal. It's really not that hard once you open your mind to it.

Seriously.

Read

our story

and try out some of our

recipes

. We really cooked these things (and ate them, too!). On weeknights. We even had time to do the dishes.

And yes, there is no refined sugar, soy, or dairy in any of these recipes. And often, they are vegan, gluten-free, or nut-free friendly.

Enjoy!

A bit about me...

Adele
30 year old
teacher, tutor
chef wannabe
health-nut
wife to handsome hubby Lee
Mom to beautiful baby Hannah Ruth and
fur-babies
Mac & Zoey


Archives

August 2014
March 2014
February 2014
January 2014
December 2013
November 2013
October 2013
September 2013
August 2013
July 2013
June 2013
May 2013
April 2013
March 2013
January 2013


RSS Feed
Powered by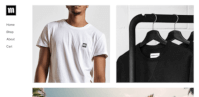 Create your own unique website with customizable templates.