Healthfully Delicious
Real food. real life.
We recently welcomed our first baby into the world - Miss Hannah Ruth! She is wonderful. We are having the most amazing summer getting to know our little girl. We love her to bits! As prepared as we tried to be, nothing can really prepare you for being a parent. It is very special. But also, unfortunately, very costly.

I have been staying home to take care of her and the dogs. This has been a totally weird adjustment by the way, but embracing it with all I've got! Anyway, with me being home, income has decreased... We knew this was going to happen so we had time to prepare. We, too, of course, decided this year would be best year to take on major home renos. WHY?? I don't know. Well, yes, I do know. We decided to do them this year because we thought that if we didn't do them now, once we have a baby, who knows how much our lives might change and we may never do the renos. So, off to Kent we went and within 6 months, built ourselves a new kitchen, a baby room, new windows in the back rooms, and an addition onto the side of the house for a mudroom. Grateful to be making these changes to the house, but, needless to say, the bank account is not happy... Enter operation save money.

Aside from the basics, like not always justifying the purchase of random stuff for the house, which we are totally guilty of, and cutting out cable/phone/extra spending (we've already doe this) I'm looking into what else we can do to live within more our means.

Food.

We already get most or all of our fruit and veggies from our CSA, which allows us to eat quality food while saving money. We also already follow a shopping list and stick to it. Actually, I'm so much of a nerd (more than many of your know) thatI have a typed up 'master' shopping list with all of the things we normally buy printed in stacks so we just check off what we need when we run out of it. But, even still, I find there is unnecessary spending there. We are going to the grocery store to replace items, but really, there is still plenty of food in the cupboards that I could use up before heading to the grocery store.

My goal here is to help reduce costs just use what we already bought! Be innovative and thrifty in the kitchen. Don't just stick to the same old meals, but look at what we have and go from there. Try to go a couple weeks without buying groceries, even if we run out of something.

Now, we've kind of already been doing this because of our CSA boxes. The philosophy around that is that you've got to use it or it is money wasted, as fresh food only lasts so long, right? So we will apply this same philosophy to everything else in the kitchen. Find a use for that can of kidney beans or that elbow macaroni, while using up the CSA veggies that change every week.

Here goes!

So far, this is what I've come up with over the past couple days. You can tell we've got a lot of dry pasta in the cupboard!



Sweet Potato 'Mac n' Cheese' meets Tuna Casserole


Vegetable Soup meets Chicken Noodle Soup


Macaroni meets Spicy Sausage & Balsamic Tomato Sauce


Every fresh vegetable we had + Balsamic Vinegar

Stir-fried veggies rolled in rice paper with a tangy chilli honey sauce

Garden Fresh Tomato & Corn Chilli with whole wheat bread

Truth:

Life IS busy and unpredictable. And, yes, time is valuable. But what you eat can make or break it. So make it last. Make it count.

Cook. REALLY cook. Don't just tear open a package or crack open a jar. But cook - you know - mixing spices, simmering sauces, sautéing .. Yep, the real deal. It's really not that hard once you open your mind to it.

Seriously.

Read

our story

and try out some of our

recipes

. We really cooked these things (and ate them, too!). On weeknights. We even had time to do the dishes.

And yes, there is no refined sugar, soy, or dairy in any of these recipes. And often, they are vegan, gluten-free, or nut-free friendly.

Enjoy!

A bit about me...

Adele
30 year old
teacher, tutor
chef wannabe
health-nut
wife to handsome hubby Lee
Mom to beautiful baby Hannah Ruth and
fur-babies
Mac & Zoey


Archives

August 2014
March 2014
February 2014
January 2014
December 2013
November 2013
October 2013
September 2013
August 2013
July 2013
June 2013
May 2013
April 2013
March 2013
January 2013


RSS Feed
Powered by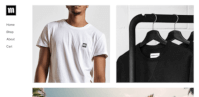 Create your own unique website with customizable templates.